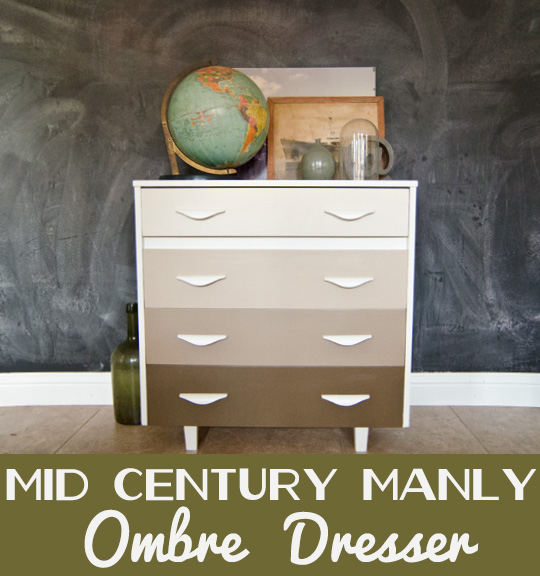 I am a simple girl. I like my toast to be buttered, my buffets to be mid century, and my painted furniture to take the form of a gradient. You know what I'm talkin' bout ……OMBRE.
I'm admittedly obsessed with it. I've been wanting to ombre something so bad that I've basically developed a twitch. When we threw our hat in the Young House Love/Bower Power Pinterest Challenge (here), it was totally time to get our ombre on. We already had our craigslist dresser, all we needed were the paint colors.
Here's our pinterest inspiration picture.

via
Look familiar? Yes it's the same inspiration for our color blocked bentwoods (and here). Instead of the chair, we used the ombre desk as inspiration this round. Nick wasn't about to have his dresser ombred in coral (paraphrase: "grumble grumble girly grumble grumble"), so we went the more manly route.
We had pacer white left over from the bentwoods and decided to use that as the outside color. From lightest to darkest our colors are sand dollar, sands of time, portabello, and kaffee. These are Sherwin Williams colors that we matched in Behr Premium Plus Ultra (since you know I love Behr).
We followed our own guide to painting furniture (except we used polycrylic as the protectant instead of polyurethane since it yellows on lighter colors). Nick put his own twist on painting the legs. Standing them up on egg crates (kid has his moments).
Nick actually started off the painting process….let's just say painting furniture isn't exactly his spiritual gift. (Also I might have mentioned something along the lines of him actually reading my post about painting furniture.) So I jumped in when the project looked like this….
And now that we've given it the full wills casa treatment, it looks like this:
So what do you think about our manly Ombre? Did you join in on the Pinterest Challenge as well? We'd love to hear from ya!
Check out Sherry's Beanbag, Katie's Watercolor, Cassie's faux antlers, and Erin's Mason Jar Chandelier.