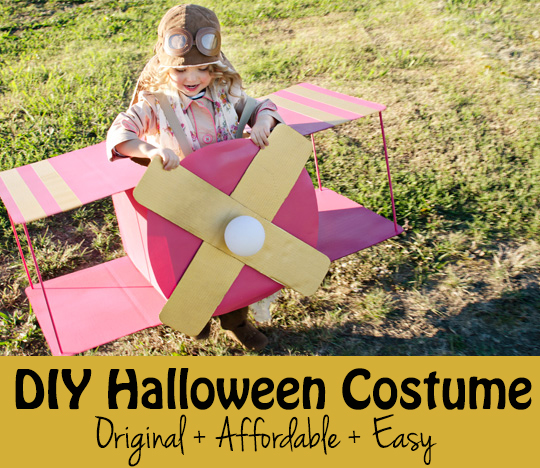 So I was planning on mailing in Halloween this year. I've mailed in the last 2 because our first Halloween with Ramona is pretty hard to compete with (just ignore the sleepy eyes we had a 3 week old).
But then I read this. Yep that's right Pinterest Challenge time again. I couldn't start until Thursday afternoon (thanks strep), so I decided I would rush to make Ramona's Halloween costume by our first event Friday. I mean it says challenge right.
via Oh Happy Day
Jordan Ferney has a great Homemade Halloween series this year. I saw this airplane costume a week after Ramona's birthday. It's amazing, so I figured I would abandoned the idea of dressing Ramona up as a princess. She does that every day, no Halloween needed.
I got my supplies: gold spray paint, pink spray paint, dowel rods, tacky glue, styrofoam ball, duct tape (gold and white so I can have options), paper towel roll, straps, poster board, 20 x 20 x 20 box (for the wings and propeller), 14 x 14 x 14 box (for the plane body)
I used the 14 x 14 box for the plane body. I folded down the front, but I left the back open.  I needed the length. I put an extra piece of cardboard on the back.
I cut the 20 x 20 box in fourths. I rounded the edges of the wings. The cut the top and bottom pieces out. Added the dowel rods. I couldn't use the prepackaged rods because they were 12 in. My box was 14, so I bought longer ones and hack sawed them.
I liked how Jordan's plane had a circular front, but I couldn't get my box to round out. I faked it with poster board for the front. I made sure the propeller was longer than circular façade.
I assembled the propeller with the paper towel roll and spray painted the plane and propeller. I let it dry overnight. Then attached the propeller. I picked pink as my main color because Ramona's trench coat is tan with pink piping. I thought it would be a nice accent. Plus we did red planes for her birthday.
I literally screwed the styrofoam ball on the front. I wish I would have left about 2 inches of the paper towel roll to cut into the ball, but it stayed on with the half inch I used. I went with gold tape to match the propeller. I cut small slits to attach the straps and hot glued them underneath. It will also keep them from fraying.
We had the aviator hat from Ramona's birthday for a photobooth prop. I think the Wills Casa version is a bit bigger than the original. Ramona is also smaller than Moses, so it's exaggerated in the pictures too. Ramona didn't seem to mind walking around in the big airplane. It isn't heavy. I cut a big hole for her legs. Plus everyone was freaking out about how cute the costume is, so Ramona eats up the attention.
So here's a little budget breakdown:
Boxes – $6
Styrofoam – $2.25
Gold Tape – $3.50
Dowels – $1
Spray Paint – $8
Total $20.75
It took about 3 hours (not including dry time) to complete, so it was ready within 24 hours to wear to a carnival. It was incredibly easy. All the small details make it look more complicated and more impressive than a costume made from just cardboard.
You can check out our past pinterest projects.
Mantel Styling // Ombre Dresser
Vintage Art Modification // Gallery Wall
Of course go check out Sarah, Katie, Sherry, and Carmel's projects and all the lovely link ups!
*Affiliate links included.