So yesterday you saw how Ramona's 3rd Birthday party turned out. Honestly, it was amazing. It's her third time through and it's official now: Amber can freaking plan a birthday party.
This year, as usual, my main job was in the graphics department. Above is the invitation I designed (with address taken out). It was intended to be teal / red / white, but the teal ended up looking more light blue on paper (and on PCs).
The invitation and the Red Jett Sweets truck were the inspiration behind all the graphics I made. And since I stayed up late many nights last week and we only used them once, Amber and I thought we'd post the PDF files for free download and non-commercial use (just don't try and sell them on etsy or anything, yes people do crap like that).
Here's what one side of the tablescape looked like. We had popcorn in the blue paper bags, airplane shaped sandwiches, and a cheese plate on a USA shaped cutting board (repurposed as art later).
The IN-FLIGHT SNACKS banners are on an 11×17 PDF. We printed them off on card stock.
The badges for the popcorn (could be used for anything) are in 8.5×11. These were printed on regular printer paper, cut out and glued to the blue paper bags from Target.
The labels on our cheese tray were typed, but I set up an 8.5×11 of blank ones that can be used for anything (and written in).
Here's our drink station.
I loaded the DRINKS banner with some extra labels, just because I'm a nice guy.
The drink labels are set up to fit the 1/2 liter Ozarka bottled waters.
I created little baggage check and baggage claim signs that let people know where to drop presents and grab their party favors.
Also, here are the labels I made for the party favors and left blank for you to write your little guests names in.
For the photobooth, I added the clouds and airplane to the file.
I made the banner more general to say "Happy birthday." It's 8.5×33. We printed it out on 3 separate pieces of paper and glued them on some poster board.
For the pin the propeller on the airplane, I drew the plane on some butcher paper with a marker.
And these guys got printed out on red card stock and subsequently cut out.
Amber found airplane launchers at the Dollar Tree, so we made a game for the kids to land their plane in either Los Angeles, New York, or Orlando (places Ramona went this year). Then fly back to Dallas-Fort Worth. It worked better having them just throw the plane into their destinations hula hoop instead of using the launchers. Most of them were 3, so using the launcher was just past their skill level.
So the distance and location of the destinations wasn't quite geographically correct, but we let that slide.
I took Ramona's name out of the sign so anyone can use it.
Here's all the PDFs in a zip file. Feel free to download and use them however you wish. If you do, send us some pictures! We'd love to see how they're being used.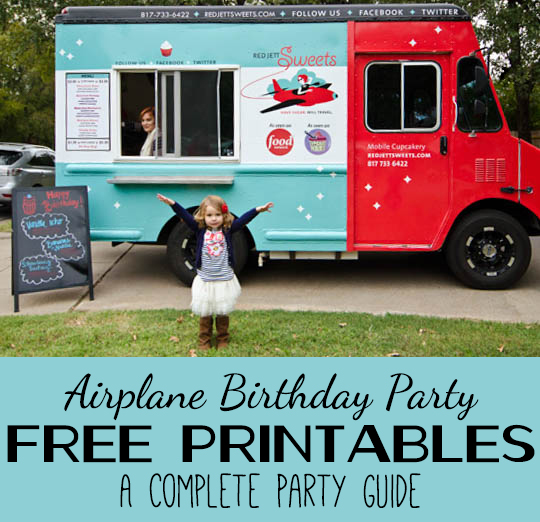 **Remember these printables are for personal use only. You may not sell them. Also if you blog about the party and use the printables, please be kind and reference back to us.
UPDATE: Some people have been having issues with the zip file, so I dumped all the pdfs into our media library so you can download them individually below: