We celebrated Ramona's 3rd birthday this weekend. Since she is obsessed with airplanes, having an airplane party was a no brainer. I'll share more about the table and craft details later this week. We made truffle popcorn, a cheese plate, airplane sandwiches, and chips.
*Update: You can read about how to make the clouds and other table craftiness here.
A little red plane carried our Drinks banner. We had Mexican coke, Jarrritos, and water (that we made a cute label for get the printable here).
Red Jett Sweets provided the cupcakes, the food truck, and the party colors scheme – red and teal. Even though airplanes are Ramona's favorite thing right now, Red Jett was our inspiration for the party. Just eat one of their cupcakes you'll understand. Not only can Christina and Natalie make a mean cupcake, but they are incredibly sweet. Visit them at the Fort Worth Food Truck Park or book them for your party. Totally worth it.
All of the cupcakes were delicious…yes I had all 3 flavors. Banana Nutella…ridiculous. What do you expect from someone who has been on cupcake wars?!?
I bought wooden airplane puzzles for less than a dollar a piece for the kids to paint. Don't worry it was washable paint. Good thing because 3 year olds are messy painters.
We created a game based on Ramona's travels this year called Ramona's Birthday Getaway. You pick a plane and fly it (read: make it land in a hula hoop) to LA, NYC, or Orlando. Of course you have to take off from Dallas-Fort Worth. Download the signage here.
I found this Pin the Propeller on the Plane game on Hip Hip Hooray. It was just too easy to skip out on. Download the propellers here.
We had our baggage check and baggage claim in the entry. I got the favor boxes from Kara's Party Ideas.
The favors were a cardboard airplane (Target), peanuts (slightly ironic since Ramona is allergic), compass, parachute man, candy airplane, and necklaces (for the girls only). I got the necklace with the star charm at Forever 21 for $1.50. I purchased the airplane charms on etsy.
The Arlington Fire Department saw the party and figured they'd stop by. It was a complete surprise, but the kids freaked out. Thank you Station 8 for making 12 little kids incredibly happy.
Of course no birthday is complete without a photo booth. We had some really cute props including this aviator hat. The clouds and airplane cut outs matched the invitations. We hung a teal sheet we found at Ross for the backdrop.
I cannot thank Jamie & Pete, my sister, brother-in-law, parents, and Grandma enough for all the help pulling it together in the 24 hours before the party. It always gets crazy in those last moments. I may or may not have been in a muu muu when the first non family guest arrived, but in the end we had a lot of fun. Also it didn't hurt that I got to eat 3 Red Jett cupcakes for my trouble.
Stay tuned this week as we break down the details and get you resources and printables in case you want to celebrate airplane style.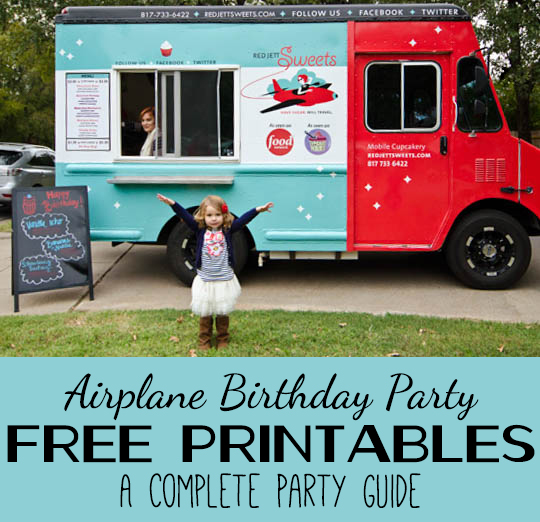 **Update: All the signage is now on a zip file that can be downloaded here.