Round 2, better known as the entertainment round, of Dare to DIY is upon us. The challenge was to DIY something for your table. This was a bit of an undertaking since we've never actually set a formal table before, gasp. It's true y'all. If we are entertaining a lot of people, we go big time and pull out the paper plates. Classy. (Actually it's more like I'm too lazy to clean that many dishes.)
What exactly did we DIY on this table despite the fact that putting a table together was a challenge in itself? The pink polka dot napkins, the decoupage ornaments, and the book page Christmas trees.
For the rest of the centerpiece, we moved our gold deer from the living room but set them towards the end, so you can still have a conversation with the people across the table. You already know we love to put domes on things. We found the wood charger and dome at World Market. We didn't go too untraditional by putting our Schoolhouse Electric house under it.
We cleaned out the hutch with grandma's milk glass bowl and our cracked cake stand. (If you clicked on that link just know those elf guys were originally going to be under our dome. Sadly they didn't want to sit up right. Nothing says Merry Christmas like creepy vintage elves staring at you while you eat dinner.)
We have 3 runners made from IKEA wrapping paper. We are no strangers to using wrapping paper unconventionally (see the background of our Christmas cards last year…wrapping paper). I guess the part of me that loves paper plates also loves disposable tablecloths. Seriously think about all the awesome wrapping paper out there that you can put to good use to set a table. Possibilities are endless.
*Excuse the sideways forks. Ramona desperately wanted to get at this table, and I thought I had it all straightened out after she rearranged it. Never underestimate a toddler's sneaky ability to touch things just 1 more time.
Here's the run down on the place settings:
Gold charger – Walmart (98¢ a piece)
Gold Rimmed Dinner Plate – West Elm
Green Salad Plate – Crate & Barrel Outlet
Pink Polka Dot Napkins – World Market meets Amber's DIY skills (inspired by these…tutorial here and here)
Gold Flatware – One Kings Lane from our anniversary (similar here)
It just so happens that our give THANKS project works together nicely with the newly set Christmas table. I know a lot of you told me to leave it up anyway, but it's great that it actually works with the space.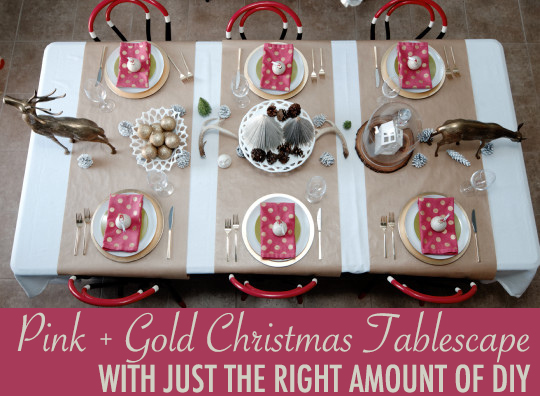 There you have it friends our first attempt to set a table like grownups. Weird for a couple that insists on having a formal dining room. (Just to clarify, I will still be using paper plates when we have our Christmas party. I don't know why I bother buying place settings for 12. Someone explain.)
Make sure to check out all the Dare to DIY projects up on our hosts' blogs: Decor and the Dog, Newly Woodwards, Maybe Matlida, and Two Twenty One.