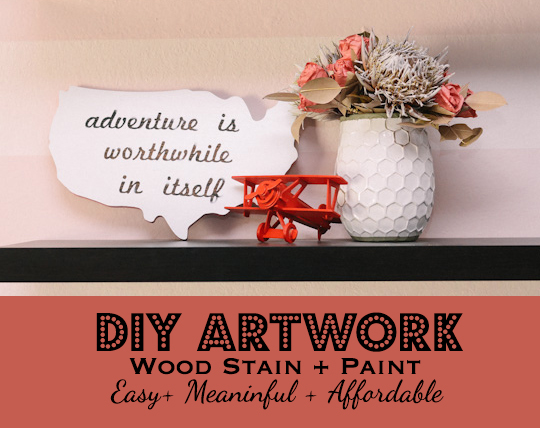 Remember back when my baby turned 3. I ugly cried. We had an airplane party. You know some 5 months ago.
We bought this cutting board from The Shops at Target collection for our cheese plate. (You can see the cheese stain proof.) Yes it is the same one John has in the basement. We always planned on shining it up and putting it in Ramona's room. By always I mean it's been a vague thought for the past 5 months.
via Brainy Quote
We wanted to find a quote about travel or something that would work with the USA cutting board. Enter this Amelia Earhart quote. Perfect follow up to an airplane party. Did I mention that Ramona was Amelia Earhart for Halloween? Sometimes things just work out.
I sanded the cheese stains away with 80 grit paper and wiped it down.
I used the Dark Walnut stain that I had on hand from our dresser. I brushed it on with a foam brush and wiped it off after 15 minutes. I just wanted to darken the wood grain enough to make it look rich. After letting it dry for 12 hours, I used wipe on poly to seal the stain.
Now the painstaking part of turning a cutting board into art. Nick laid out the quote in illustrator. (Ignore that the words are out of order.) I printed it out on a Avery full sheet label. Then used an X-acto knife to cut out the words. The font was cursive-ish, so it was better than having to cut individual letters out. It took about 2 hours (all nap time), and I found it was easier to move the paper instead of the knife.
I laid out the text and drew 3 lines for spacing and to keep the words straight. I made sure to press down and rub the stickers onto the board.
I spray painted the board in a glossy white. The sticker words did lift in some areas which I half expected. Applying a clear coat of gloss might have helped them stick better, but I didn't want to risk not being able to pull the stickers off at all. I pulled the stickers up after about 20 minutes since you need to pull them off before the paint is completely dry. I used tweezers and an X-acto.
I used some left over hot pink paint from our chairs for the edge of the board. It gives it a nice definition and a fun splash of color.
I put Ramona's new artwork on her shelf next to a leftover plane from her party. It will eventually look amazing in an art cluster. We are refusing to hang anything right now since we are selling the house.
Check out our other pinterest challenges.
Airplane Costume // Ombre Dresser // Vintage Art Modification
Gallery Wall // Master Fireplace Styling
Do I get extra points for doing 2 Amelia Earhart pinterest projects? I mean seriously what are the odds.
Of course go check out Megan, Katie, Sherry, and Michelle's projects along with all the other lovely link ups!