Yesterday Amber wrote about our Door and trim options, and today I'll be talking about our color choices regarding those. Before I jump into our actual color choices themselves, allow me to tell you a story.
Back in April, during our original scoping sessions with our architect, we had one word that we beat into the ground: Windows. We wanted to make the point that it was almost impossible for him to put too many windows in our house. Every time our architect (Larry) would come back with a revision of the plan, our response would be something like this:
It was to the point where you'd think we were asking basically for our house to be 4 walls of windows and a roof (though that does sound nice).

(via)
We want our house to have tons of natural light because we want white walls. Looking through our inspiration photos, white walls were a major recurring theme (especially on my pics) and the thing is, they never look good unless there's a ton of light bouncing around a room. A dark space was not going to work.
With the majority of our walls being white, we knew that our windows needed to be a different color. We have mainly vinyl windows for budgetary reasons, though the windows in the kitchen are wood because they had to be for them to open like we wanted. The pic above shows our main color options: Almond (Left) and Clay (Right).

(via)
We went with clay, thinking that it would be closest to the pic above (this house is also a recurring theme in our home inspiration). Yes, we know that we won't have the beautiful wood windows like in this pic, but we think it won't be too far off.

(via)
As far as baseboard colors go, right now we're leaning towards matching the window color though we reserve the right to change our mind and match the wall color to go with a monochromatic look of sorts.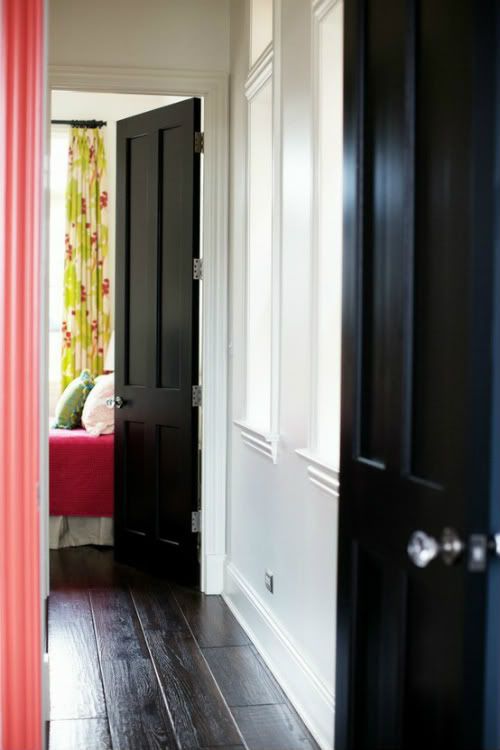 (via)
Lastly, to pair with our light and bright walls, we're hoping to throw a bit of a curve ball with some black interior doors. White walls + dark wood floors + black doors = my favorite combo.
We had always been leaning towards black doors. Then our door guy showed Amber a house that he was doing with black doors that were even the same style as the ones we chose. We were pretty much sold then.
So there it is. What do you think of our choices? Are crazy for going white? Will they be impossible to keep clean and will we be continually touching them up? Black doors too bold? Will they look good with the clay trim?