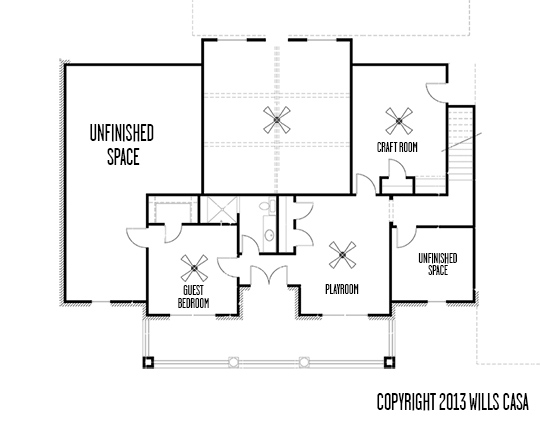 Last time we talked about the floor plan, the upstairs looked like the above (notice the giant unfinished spaces on the top left and bottom right of the layout).
When we decided to hold off on finishing the upstairs, we knew that we could make use of that space. Finishing out that extra 400-500 sqft. would give us more room and add value to the house.
The thing is, we were still going to have them frame it, but that's it. So we needed to come up with a plan.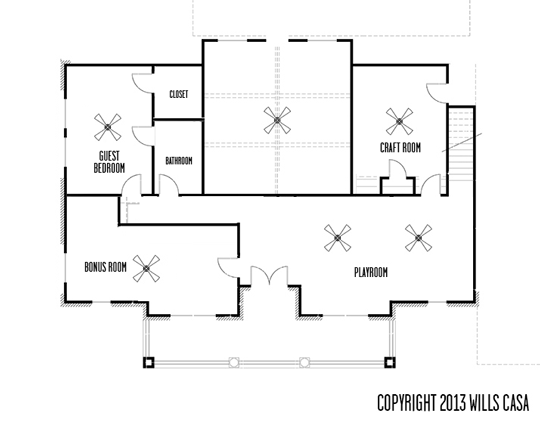 So basically what we did was photoshop the existing floor plan and make our adjustments for the builder and this what we came up with. We added a room, moved the upstairs bathroom, and enlarged 2 other rooms.
What we're thinking will happen eventually is this: first, the bonus room is more than likely turn into Amber's craft room since there will be a ton of natural light in there. The guest bedroom will become Ramona's room as she gets older. The craft room could become a media room (I'm in no rush for that, but with no windows it makes sense).
Lastly, the playroom got extended. The kids are going to have lots of room to, well, play. That excites me greatly. I grew up in a really small house with 5 people living in it. I had a cousin with a giant game room / playroom, and I was always mesmerized by the openness of it. Having a giant room like that is something I've wanted since I was a little kid.
So what do you think? Are we crazy for holding off on finishing the upstairs so we could add some extra space?
(ps. follow us on instagram for some sneak peaks of the house progress. We're not blogging exactly in real time, so you get to see the progress a little more as it's happening)