Nothing like blogging about a project 4-5 months after it happened, right? Well welcome to Ramona's birthday week. Sit back and enjoy some birthday DIYs while the house finishes this week (fingers crossed).
A cool tradition in the town that we moved to, one that's been going on for as long as anyone can remember, is painting an old railroad building to tell someone happy birthday. The building is right along the road that drives through the center of town so everyone can see it. It's a really endearing small town tradition.
This year, for Ramona's birthday, I decided I would do it a bit differently… street art style. The whole time I was working on it I kept telling Amber "I'm pretty much the Banksy of [insert town name here]"
I'll skip over the technical details, but basically I created a threshold image of Ramona in photoshop. Exported it to Illustrator, so I could create a vector image out of it. Once I blew the image up, I took it to Office Max and had them print it out on their giant plot printer. It printed 36 inches wide, so I made it 72″ x 72″ to have 2 long prints that would need to be connected.
Photo was from our maternity session with J Noel Photography.
The prints kept screwing up, so I had to end up print them about 50 different ways. Eventually we got a combination that would work.
I went that night with Amber's sister Apryle, and we painted the wall pink. Remember Beckett was 2 weeks old, so Amber was preoccupied.
The next night I made some wheatpaste… which is basically just boiling water and flour together until the gluten forms a glue.
I went out when it was dark, well because it just seemed right, and mopped on the glue. Yes mopped with an actual mop.
Once the surface was covered, I put up the prints and mopped over them with the wheatpaste. And continued to paste until all of Ramona was all the way up on the wall. It's a similar process to Mod Podge.
We placed the letter individually the same way.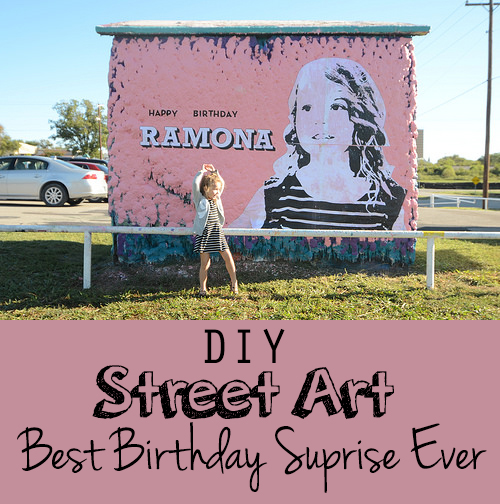 The next day was Ramona's actual birthday, so we took her in the morning to show her our little birthday card to her. She loved it, though I'm not sure she appreciated how much work it was. Hopefully she'll see this when she gets older and think we were cool parents back in the day.
She called it the "big Nona" – Nona is our nickname for her. Hilarious because she calls the Statue of Liberty the "big lady". We can't pass the building now without having to read her what's on it. Nothing says I love you like birthday street art especially when it's legal.
Check out more of the birthday party, grab a printable invitation, and see our favor bags with a free printable!