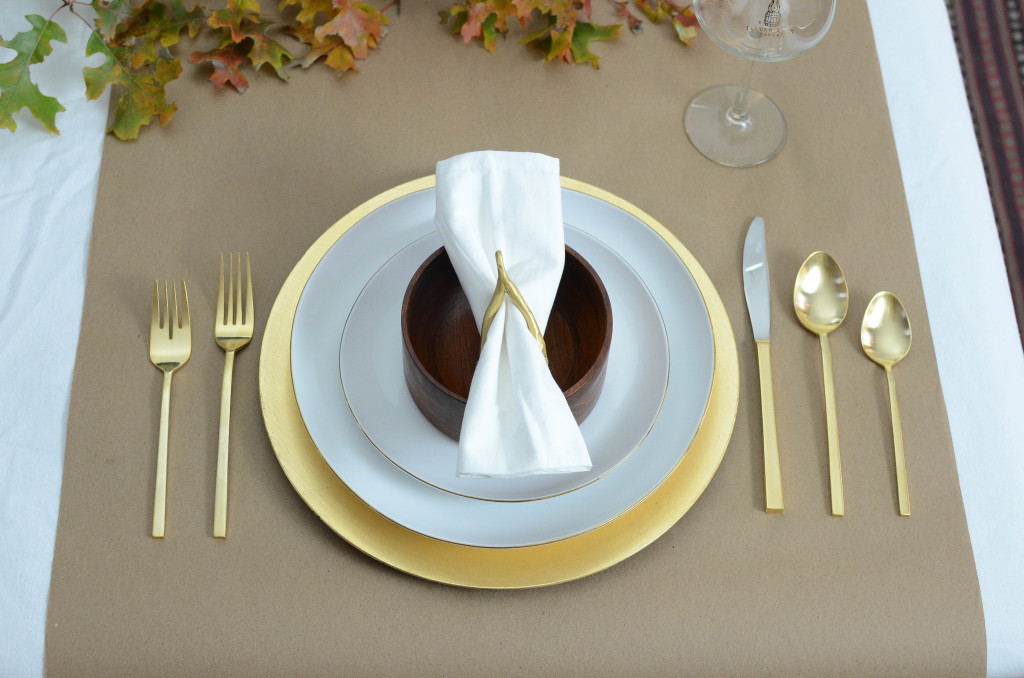 It's my favorite time of year. It's Dare to DIY time! Bonus I get to participate this year because I'm no longer homeless. Double win because Katja is a host! It truly is the most wonderful time of the year.
We are hosting Thanksgiving for both families at our casa this year, so no pressure or anything. I wanted to add a little DIY to the table because let's be honest I will in no way be responsible for the makings of anything edible for the festivities. Thus my Thanksgiving contribution…drumroll… DIY wishbone napkin rings.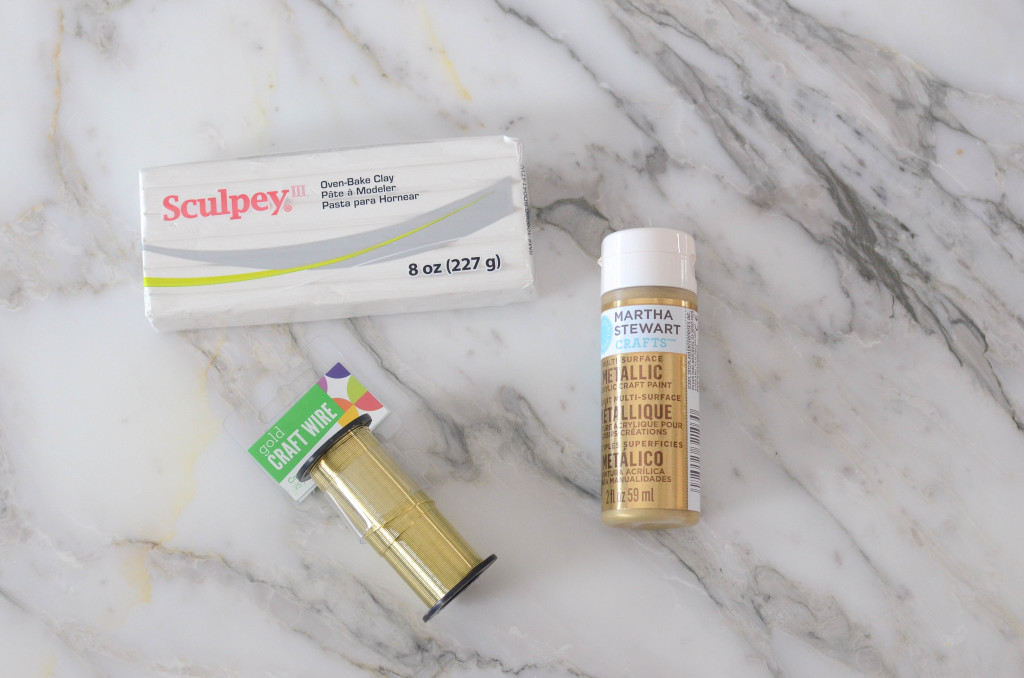 Let's keep with the Thanksgiving theme and call my napkin rings a 3 ingredient DIY – Sculpey Oven-Bake Clay, gold craft wire, and Martha Stewart gold paint.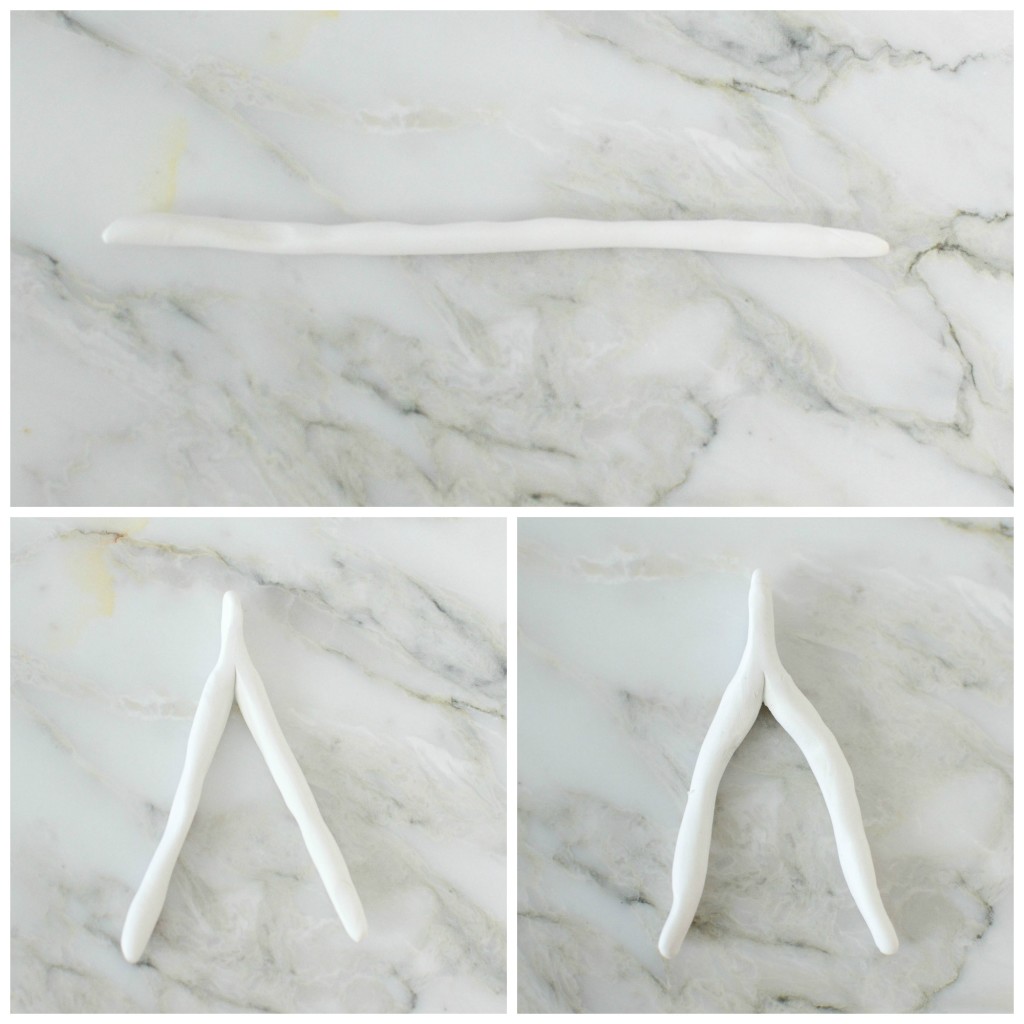 1. Roll out a piece of clay to about 6 inches.
2. Fold it in half and pinch the top of the wishbone flat.
3. Bow out the sides and even them out. Pinch the ends flat.
Make sure to round out the edges and smooth out the clay gently with your fingers.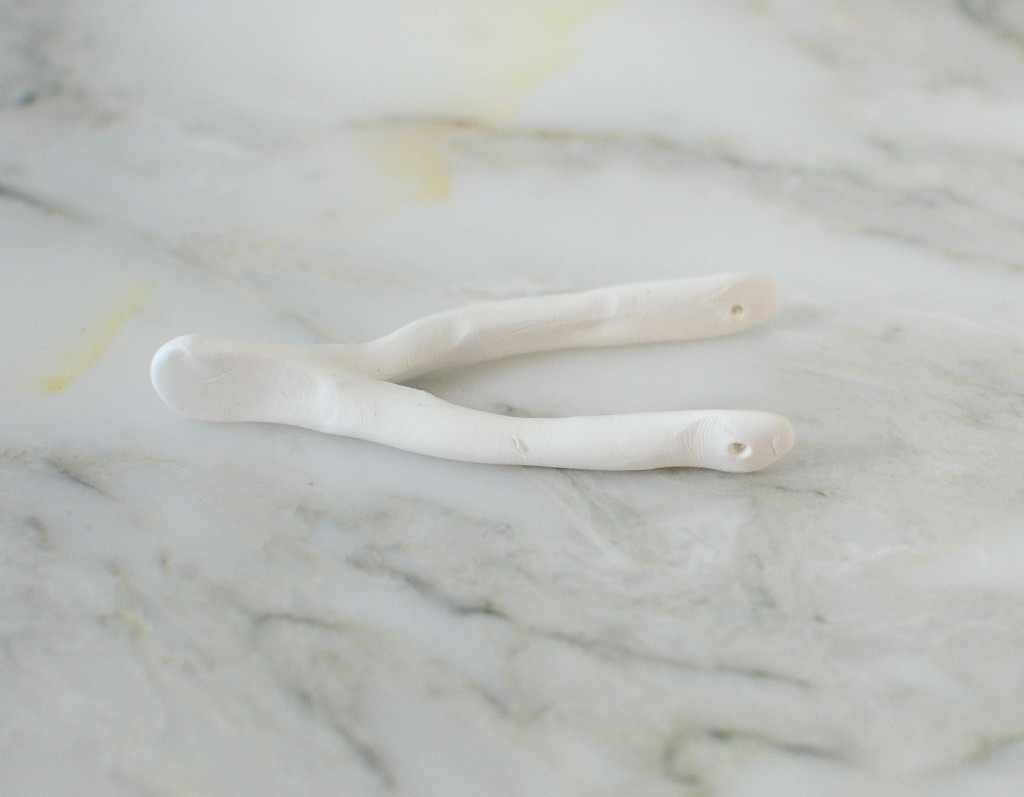 Last step is poke holes at the bottom to string the craft wire through. I used a toothpick.
*Sidenote: Our marble is not stained. It has some gold undertones and is still as sexy as the day she was installed.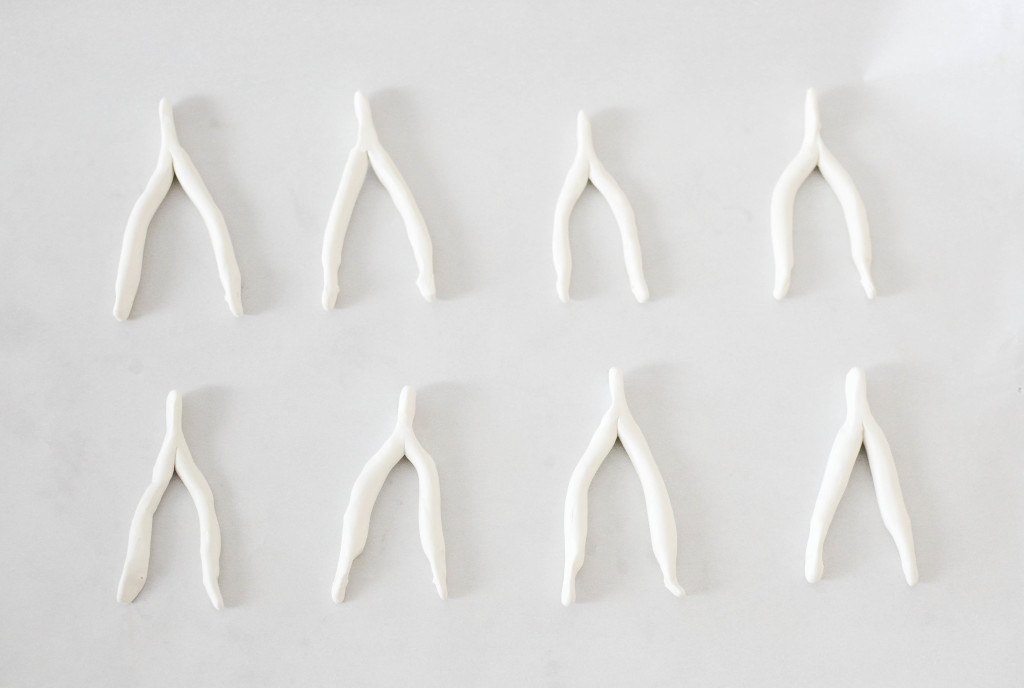 You'll have a bunch of creepy looking leg things that are in fact soon-to-be beautiful napkin rings. Bake according to your clay's instructions. Mine was 275° for 15 minutes per 1/4″ thickness which for this project was just 15 minutes. When I pulled them out, they were a little flexible. I let them cool for 10 minutes, and they hardened up nicely.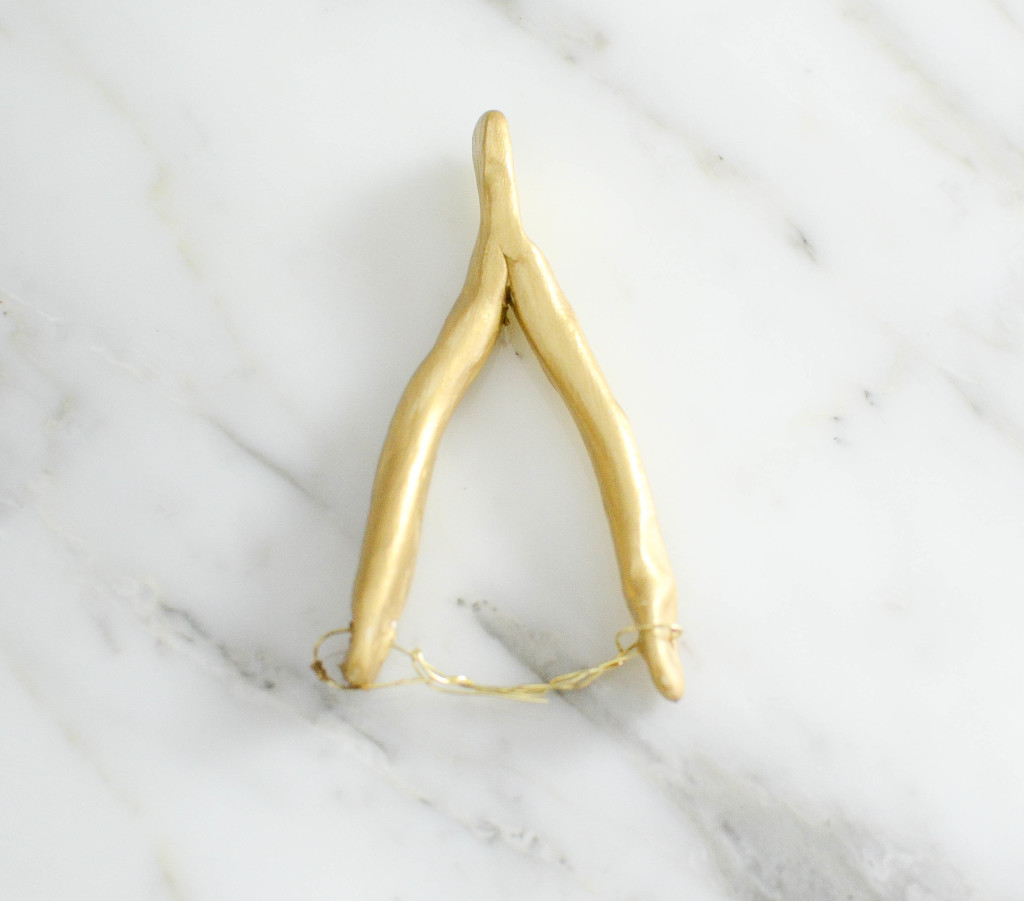 I painted them gold, but you could go crazy with a pop of color. I took the craft wire and thread it through my pre poked holes (glad I remembered to do that before I baked them). I just twisted it to secure it. I mean they just have to hold napkins. The wire is super flexible, so it's pretty forgiving. You could use jute string too. I think the wire blends better and is easier to thread through your wishbone.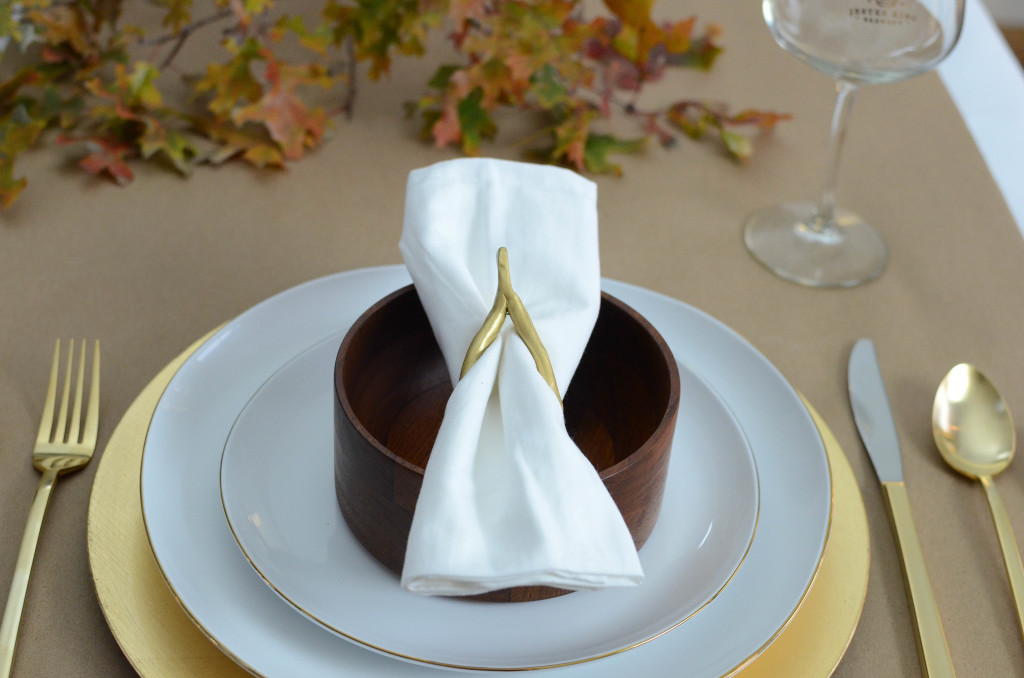 I can't think of Thanksgiving without thinking about the yearly challenge I have with my dad over the turkey's wishbone. Not that I'm keeping score or anything, but let's just say I'm not a lucky person (and my dad likes to cheat). If you don't know what I'm talking about, whoever breaks off the larger piece of the wishbone gets their wish granted (read more here).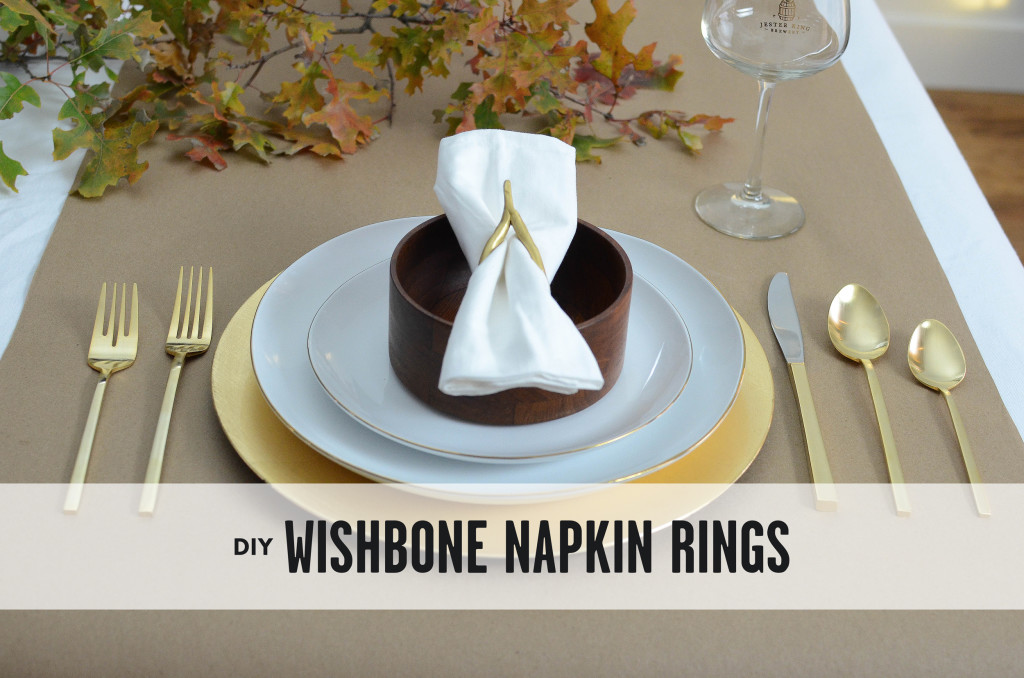 This is an incredibly easy DIY. I love that it feels very Thanksgiving without being traditional. Also I can officially say I did bake something for Thanksgiving.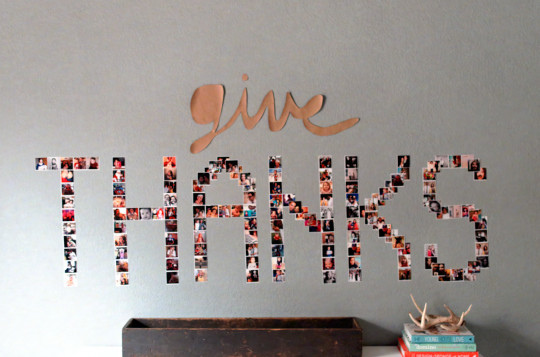 My first Dare to DIY was 2 years ago with our instagram give THANKS install.
Make sure to check out all the BE THANKFUL projects and soak up the holidays via the internets. Thank you Katja, Kim, Michelle, and Rachel for hosting!
*This post contains affiliate links.