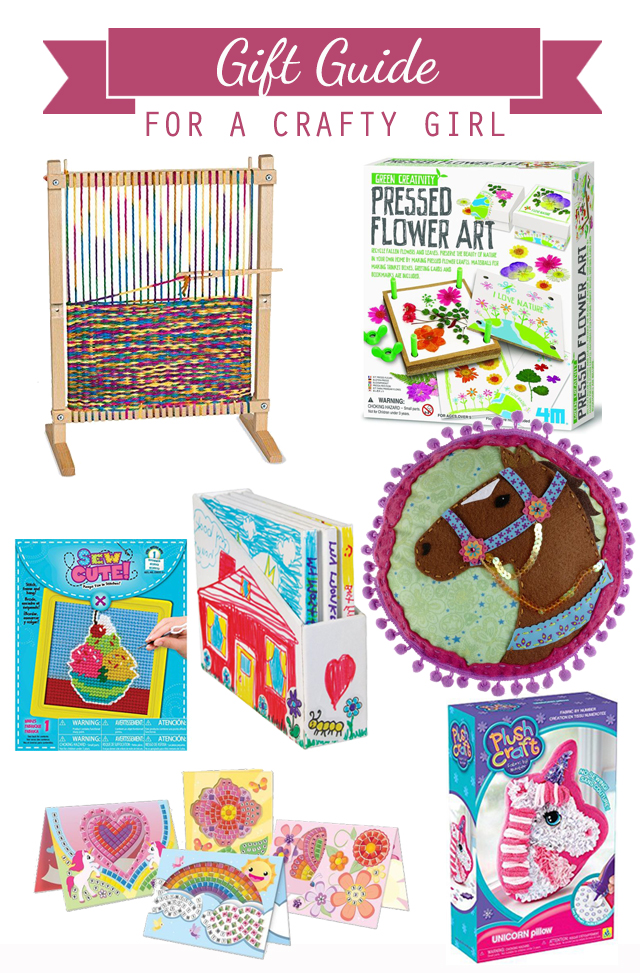 You are looking at the ultimate gift guide for a crafty girl. Best news is all of these are UNDER $20 and can ship to your house in 2 days. Save this list for all the birthdays and events you will inevitably attend.
Extra large Weaving Loom – I stocked up on these when they were in Target's black Friday ad, so I was thrilled to find them on Amazon for future purchases. The creative possibilities are endless and the hours of quiet crafting will be blissful for the whole family. Here is a great yarn package too.
Pressed Flower Art – Science + Art for $10…don't need to explain why this is awesome.
Ice Cream Needlepoint – There are lots of cute needlepoint kits (horse, dog, hedgehog). These would make great stocking stuffers.
Blank books – The teacher in me loves these so much. You get 3 blank hard cover books for your child to publish their writing. Ramona is so into writing stories right now. I cannot wait to go through the writing process with her, see her read her own stories, and have these books for years to come.
Horse Pillow – I want to order this for myself if I'm totally honest. I think it's beautiful and very cool that your kid can make it themselves.
Mosaic Cards – Ramona loves to write notes to people which typically means getting into my cards. I love that these are structured – similar to paint by numbers but with stickers – so she can't rush through making them just to send them. This mosaic line is really fun. She has a horse jewelry box that she loved putting together. They also have pictures which are a fun option for pre writers.
Unicorn Pillow – These have been a huge hit with Ramona and her friends. They have lots of cute options – dog, personalized, fox, and even a 3D option. You create the pillow by pushing scrapes of fabric into it. Ramona sat and worked on hers for hours until it was finished. Great project during that last week of Christmas vacation!
This post contains affiliate links. You pay the same price, and I get a few pennies for introducing you to some awesome product.