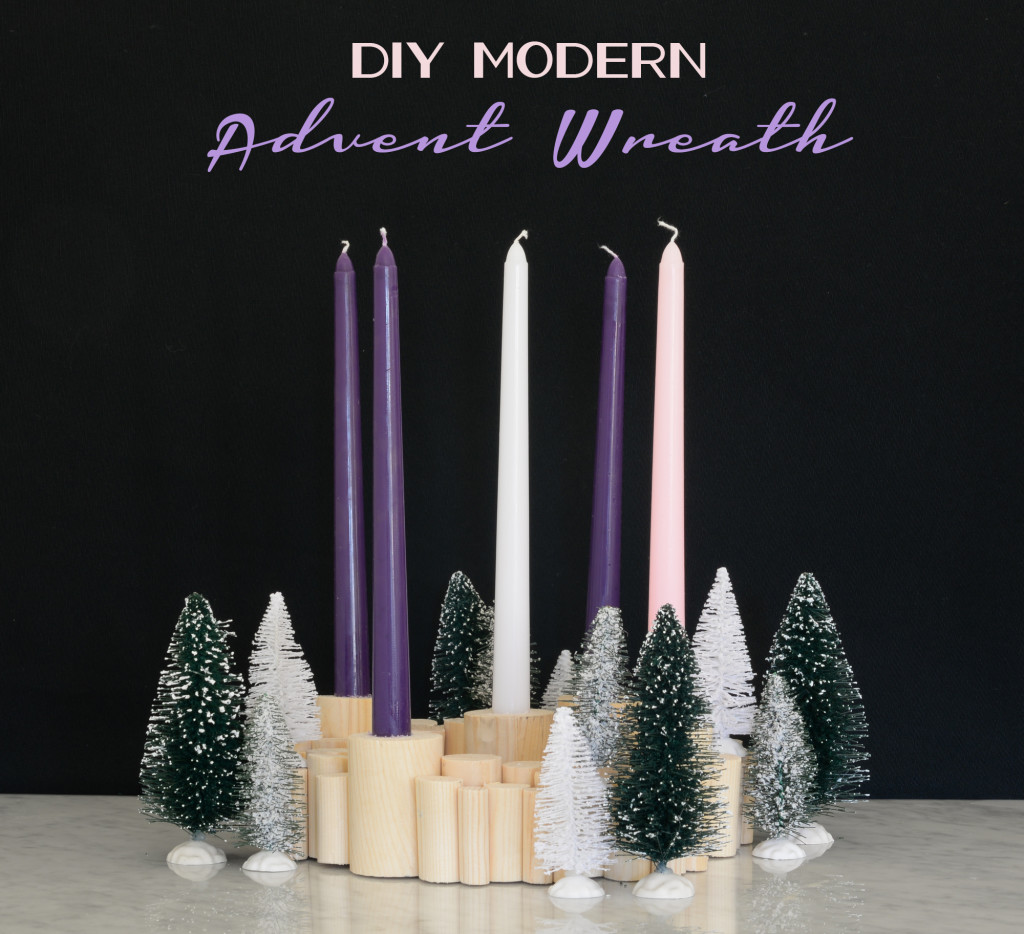 I have been in full Advent planning mode for about a month. For some of you an Advent wreath has always been a part of your Christmas tradition. I had no idea what they were until I started planning for Christmas. Once I learned their significance was more than just candles (read about advent wreaths here), I was all in and needed one.
I found this advent wreath and figured I could DIY something similar since buying it wasn't an option. All white candles would make this look more modern, but I didn't want to lose the significance of the colors of the candles. I guess you could say my wreath is modern with traditional candles. We do like to mix styles around here after all.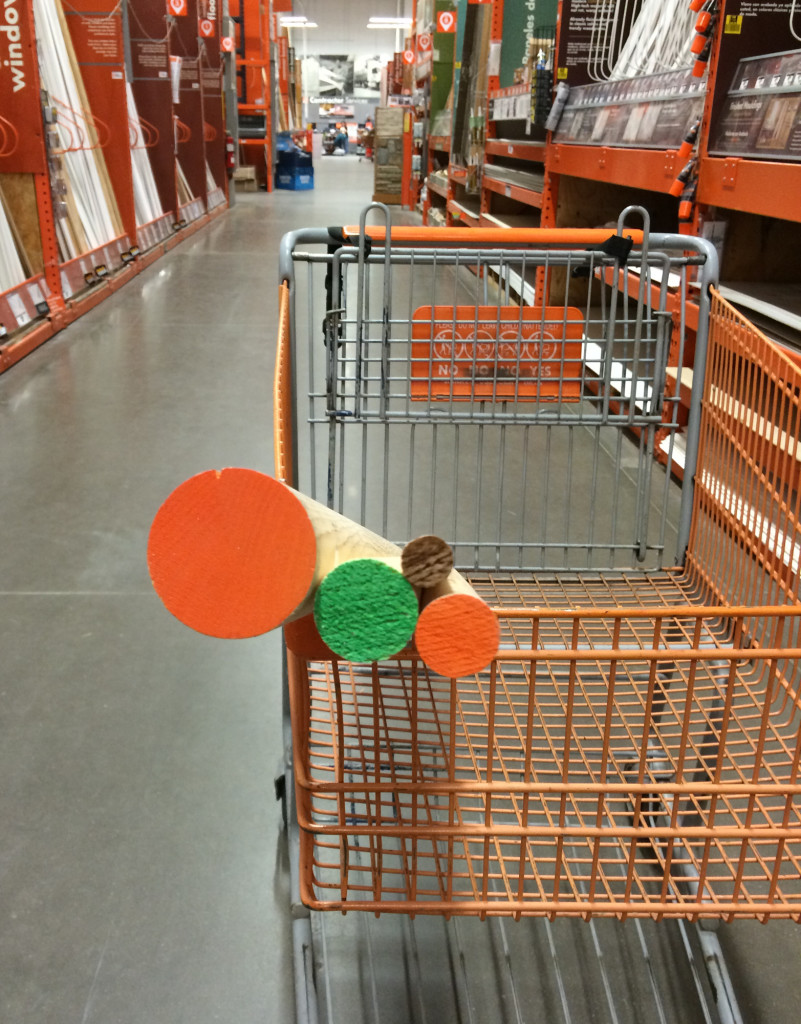 Supplies: 2″ dowel, 1 1/4″ dowel, 1″ dowel, 5/8″ dowel, 3/4″ spade bit, super glue, advent candles
I had the 2″ and 1 1/4″ dowel cut by a Home Depot employee, so I spent $8.50 in cuts. I don't have an electric saw to attempt that at home, so it was money well spent. I had the 2″ dowel cut to 3″ tall to hold the 5 candles, and the 1 1/4″ dowel cut to 2 1/2″ tall.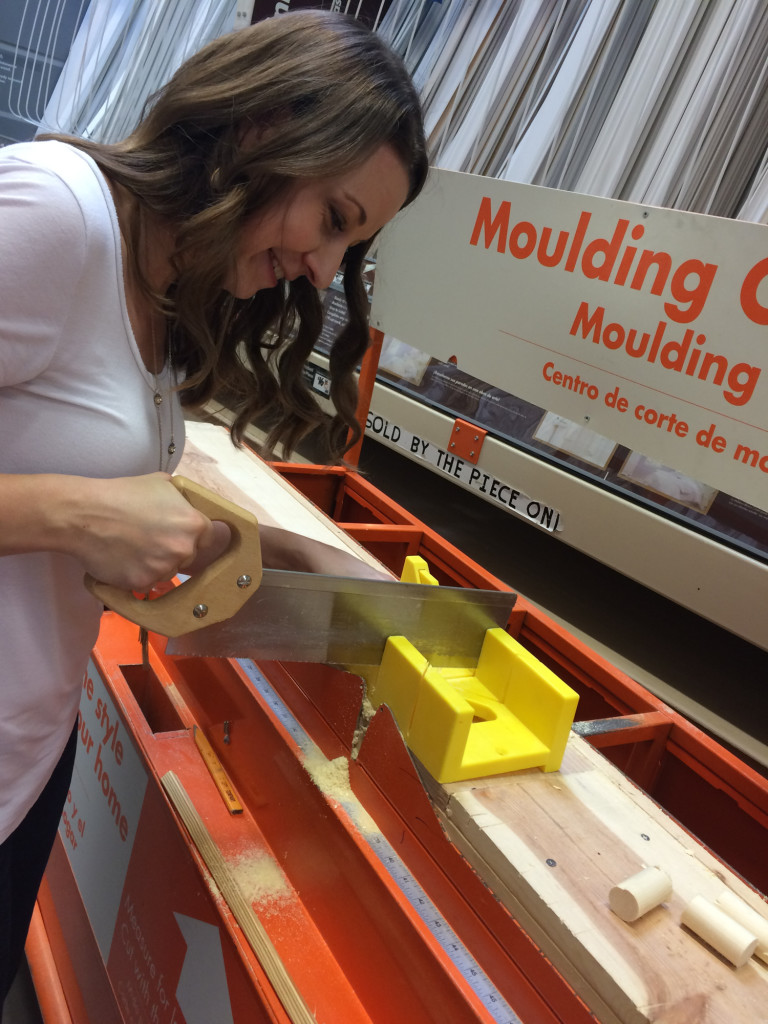 I did, however, cut the remaining dowels myself at this handy little station in the dowel aisle in Home Depot. There was lots of sweat in addition to sore arms the next day. The 1″ dowels were cut to be 2 1/4″ and the 5/8″ dowels were cut to 2″. Of course none of the cuts are perfect which works for the style of wreath I wanted.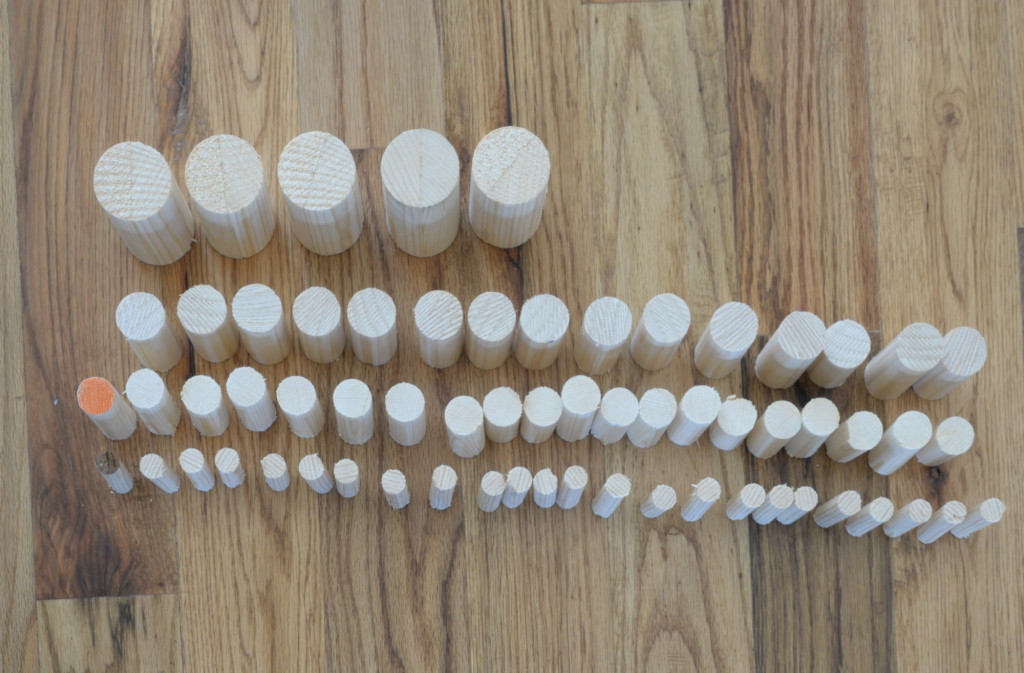 I walked away with all these little pieces to begin assembling the wreath. It doesn't look like much, but hand sawing is hard y'all. The edges were a little rough, so I sanded them to be smooth before I put them together.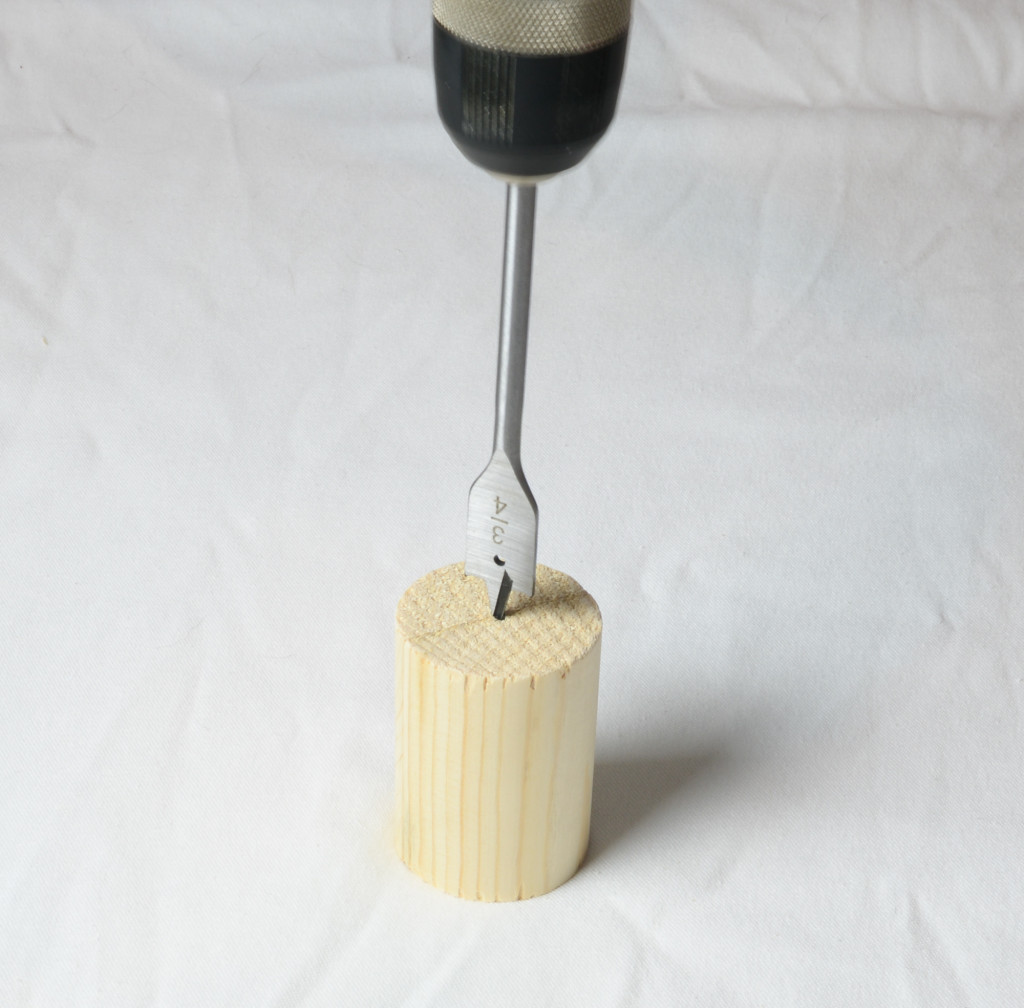 Drill the 2″ dowels with the 3/4″ spade bit to insert your candles in later. The candles I ordered have a 3/4″ base which is why I went with a 3/4″ spade bit. Seems logical but you will still have to screw the candles when everything is finished (more on this later).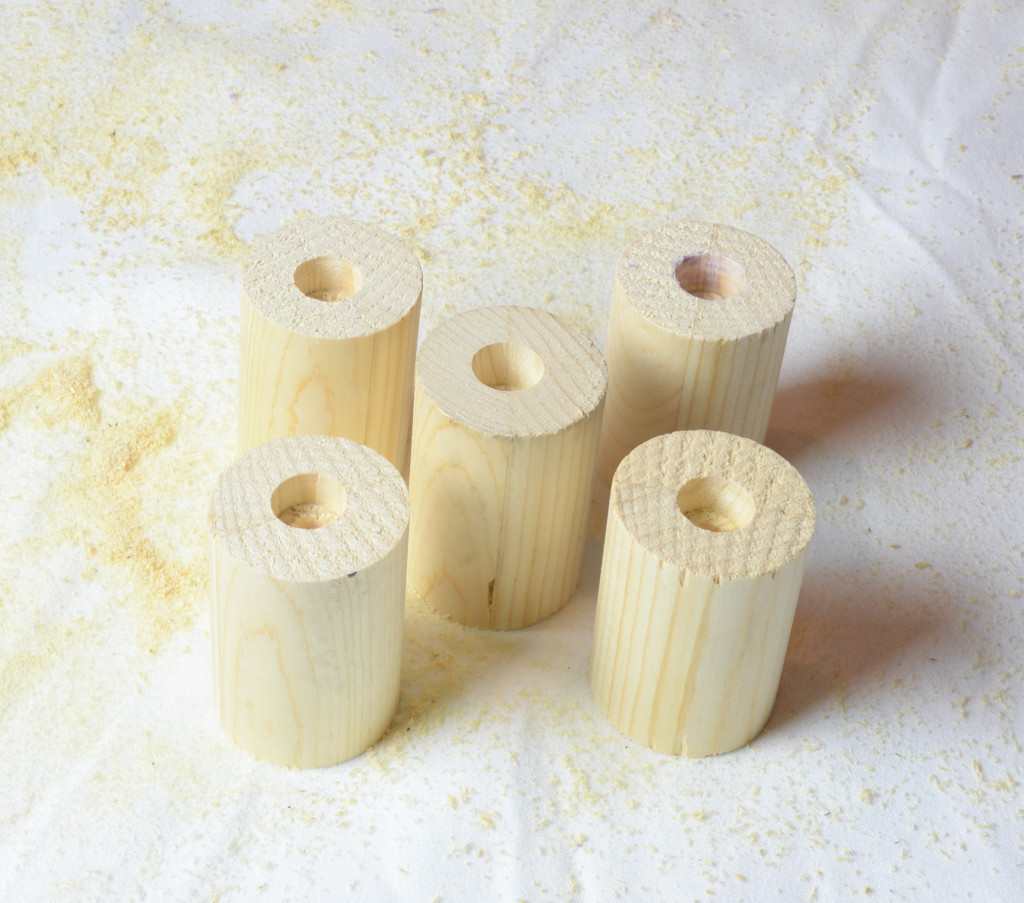 Advent wreaths have 5 candles, so drill all 5 of your 2″ dowel pieces.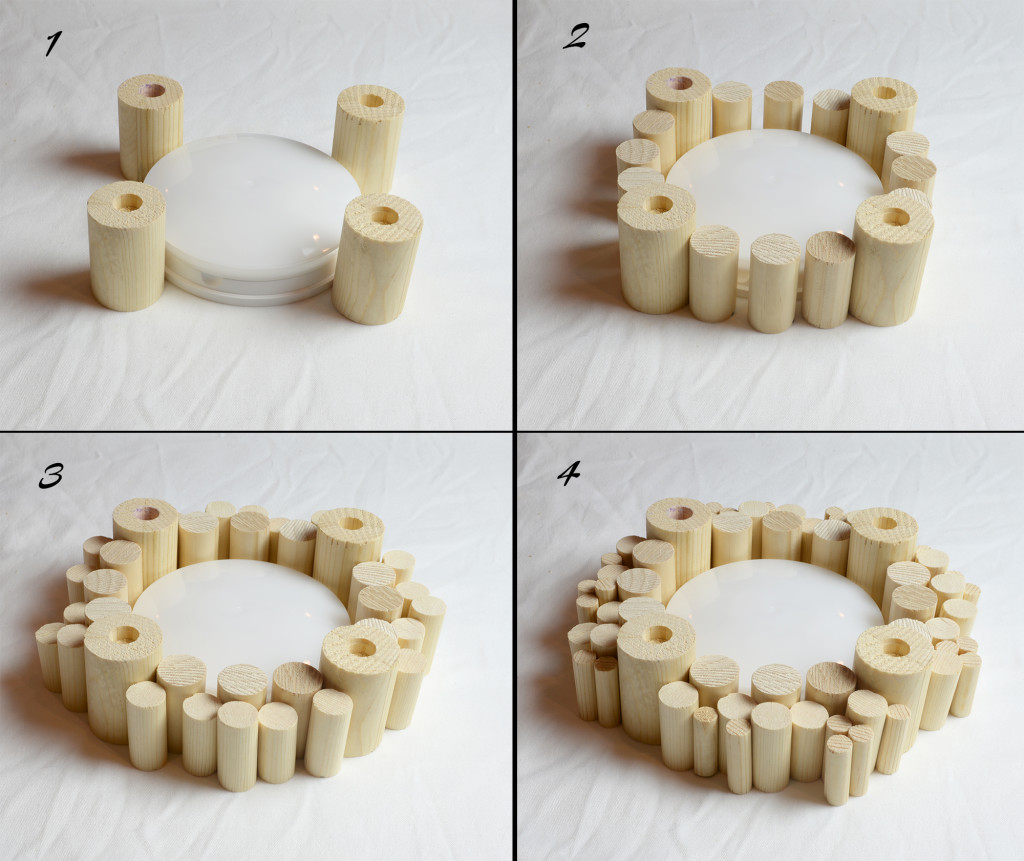 The great thing about this DIY is nothing has to be exact. I lined my pieces around a lid (it was 6 1/2″ diameter) starting with the 4 large dowels for the candles – the 5th candle is in the center not attached to the wreath. Then I layered in the dowels going biggest to smallest in equal amounts between the larger candle dowels.
If you want a break down of the cuts, here you go:
2″ Dowel – 5 pieces
1 1/4″ Dowel -12 pieces
1″ Dowel – 19 pieces (I was 1 short on 1 side of the wreath)
5/8″ Dowel – 24 pieces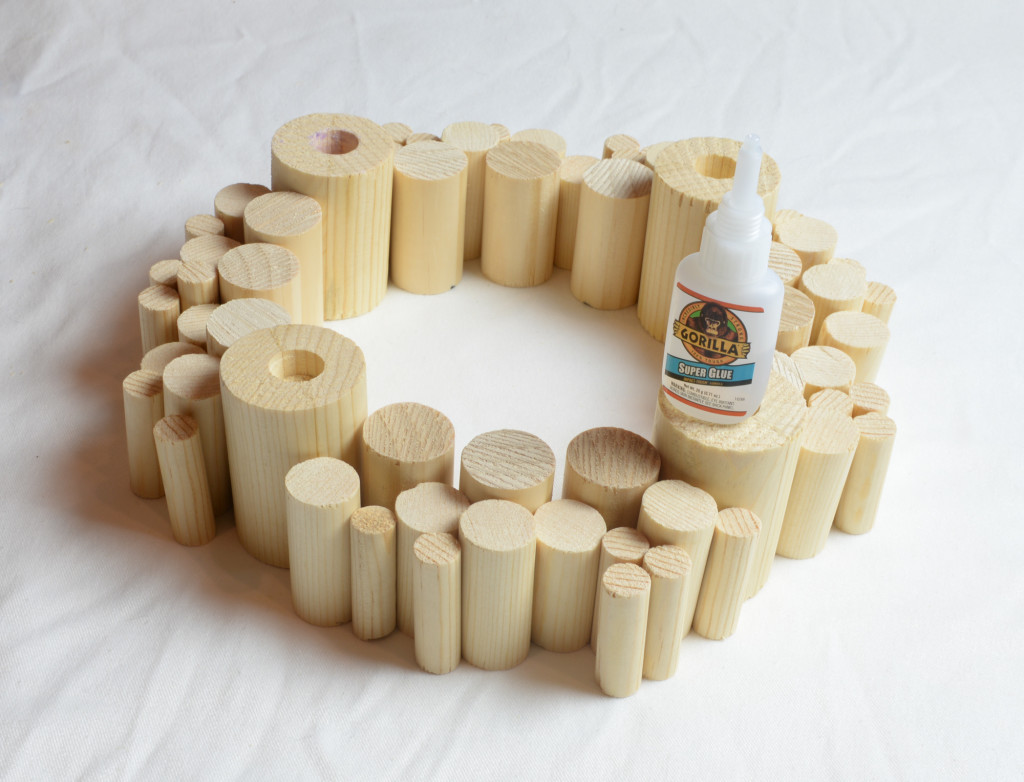 Once the pieces were in place I super glued it together piece by piece. I used super glue since all the wood glue required the pieces to be clamped and had a longer bond time.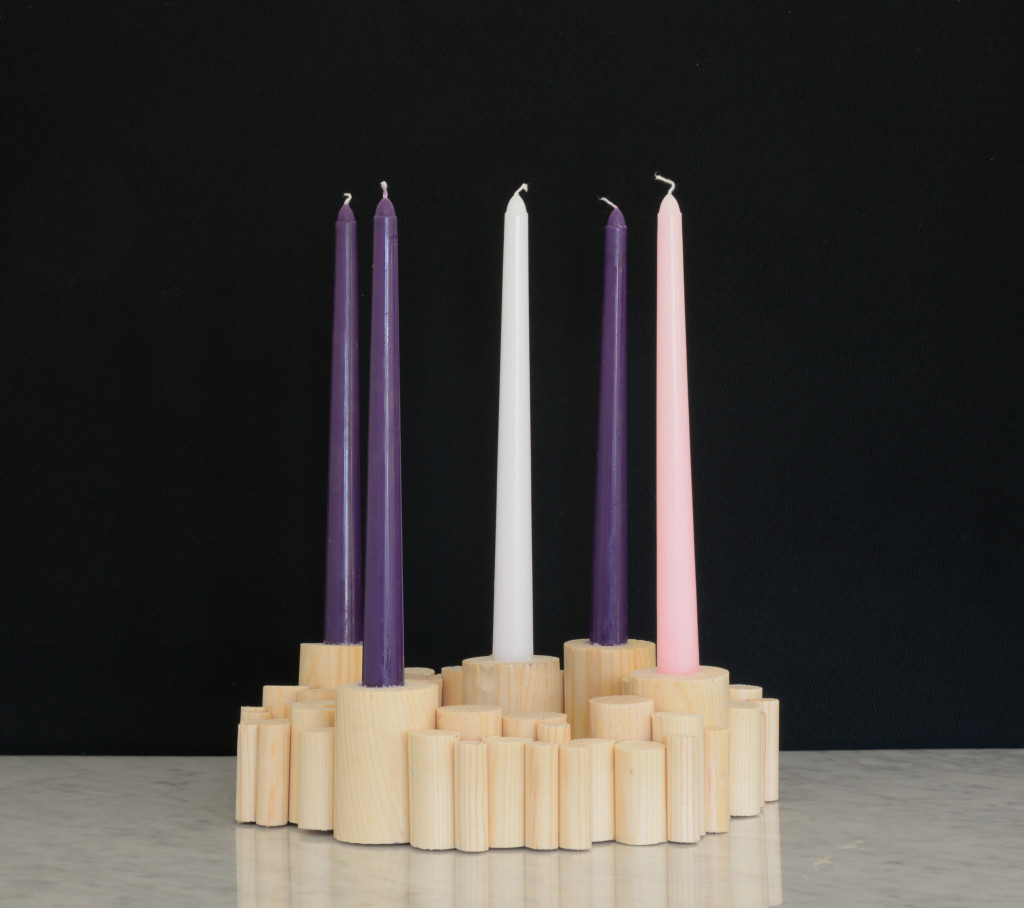 I twisted the advent candles into the pillar dowels since it was a tight fit even with the same 3/4″ base. You want this step otherwise your candle holes are too loose and could fall over which sounds like the worst situation you could have – falling fire doesn't not sounds like a way to celebrate.
Place your 5th pillar dowel in the center to complete the wreath!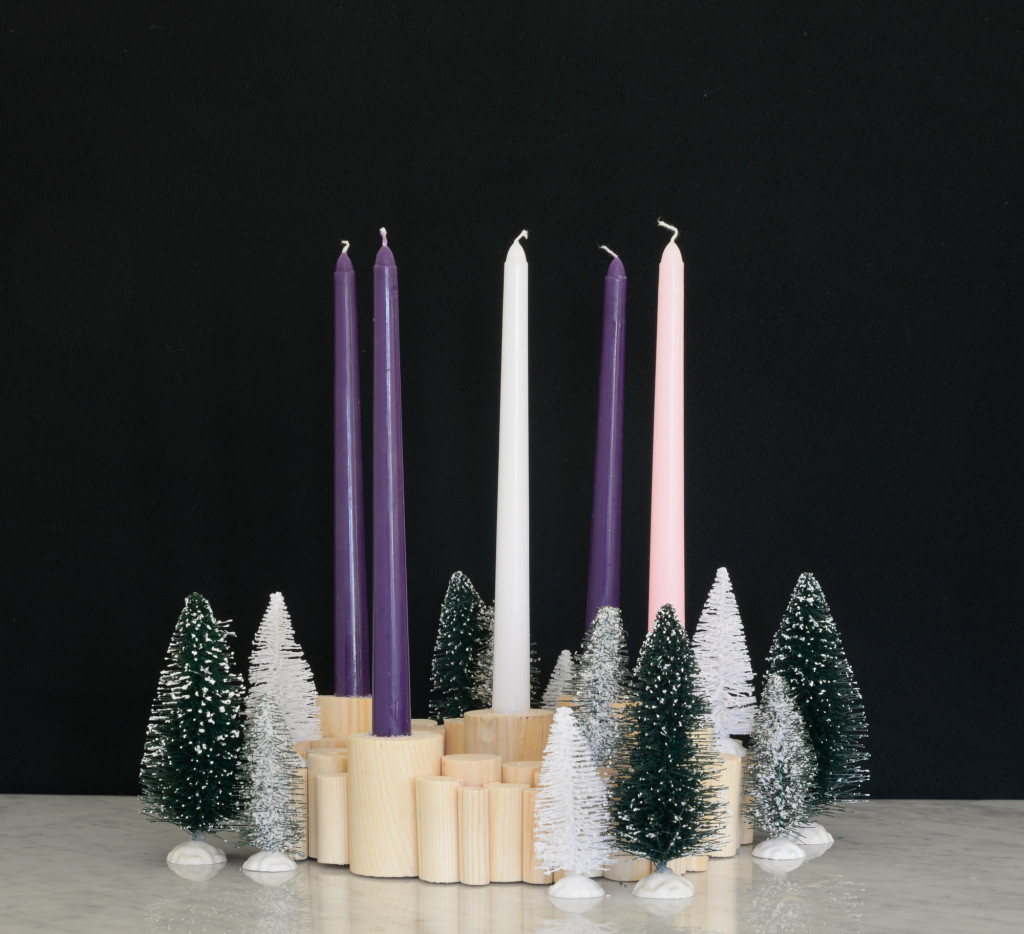 I picked up some bottle brush trees from Walmart for $0.74 to $1 a piece. I did not glue them to the wreath, so I could move them when the flame gets near them. Clearly I am afraid of fire, but I want an advent wreath that's cute and will also not burn down my house.
Of course if you want to go more modern switch out with all white candles and you can add more colorful bottle brush trees like these cute ones from Target.
I am so excited for Advent this year. I cannot wait to share more what we are doing. Make sure to follow along via instagram!
*Post contains affiliate links.