Amber discussed going to our builder's plumbing supplier and looking at fixtures.
Here's the scenario: our budget for plumbing was squeezed along with the whole house budget. The cheapest options available were still over budget which is completely depressing to think about. Since we were going to go over budget, we thought it was time to get creative.
We decided to hit the internet hard. At the old house I had bought some plumbing fixtures for our wet bar from Overstock. I was blown away by the quality. They were actually Kingston Brass though not marketed on the site as such (they're much more expensive to buy directly from them).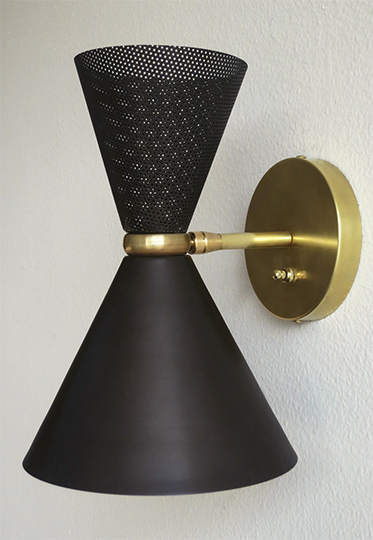 So I went to look at their selection. We wanted brass, but the only ones we could find were way out of budget. The oil rubbed fixture we bought previously read more black than bronze, so we decided to go with them in a sort of "black & brass" scheme (Side Note: I've been walking around singing "Black & Brass" to the tune of AC/DC "Back in Black" Lately. Yes, I'm pretty awesome). Above is an inspiration image for color tones we were using. It's too expensive for us, but definitely gives the feel. White walls, dark metals, brass tones, mixed in with marble, wood tones, maybe cement tones, etc. We've got a couple of tricks up our sleeves yet.
Here are the fixtures we went with for the bathrooms: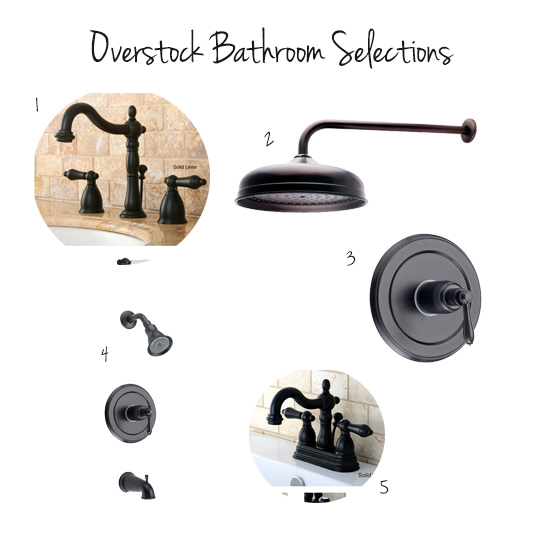 1 - Faucet for the Master Bath (2 x $179.99)     2 – Shower heads for walk-in shower in master (2 x $167.99)     3 – Shower handles and valves for walk-in shower in master (2 x $189.99)     4 – Shower and Bath combination for kids' bath (1 x $229.99)     5 – Faucet for kids jack and jill and half bath (3 x $89.99)
We paid for all of this out of pocket which means the remainder of our plumbing budget from the building bid can be moved towards other overages (not like we're short on those). It was definitely over the allocated plumbing budget from the bid but cheaper than using our builders' supplier. Plus the total amount is already paid for, and the quality is much better than anything else at this price point.
When we handed over the fixtures to our plumber, he told us that he knew they were "the good stuff" by the weight of them. They're solid brass, so very heavy. He was pretty blown away by the price…"what was that website again?" he asked as we were leaving. Score.
Stylistically speaking, the faucets are a lot more traditional than we would like, but not necessarily overboard. At this point, if we keep the rest of the room pretty modern with some industrial touches, I think it will keep it from being too boring. The shower heads for the master shower are amazing though. I couldn't love them more. Style-wise they're on the money. The kids shower head is pretty neutral. Amber doesn't care for the size of the shower head  or the bath spout, but I think it will be a good fit for the space.
So there it is, faucet crisis solved. We got some great stuff at reasonable prices, now we just have to come up with a design for the rest of the space that achieves the look we're going for. But hey that's the fun part, right?
PS. While we're talking about Bathrooms, Go check out the bathroom reveal our friend Michelle at Decor and the Dog just did. It's crazy good!