Remember that time when I had a baby who was almost 9 months and he was all like dude mom finish my nursery before I go off to college? Real judgey for a bald baby with a booger in his nose.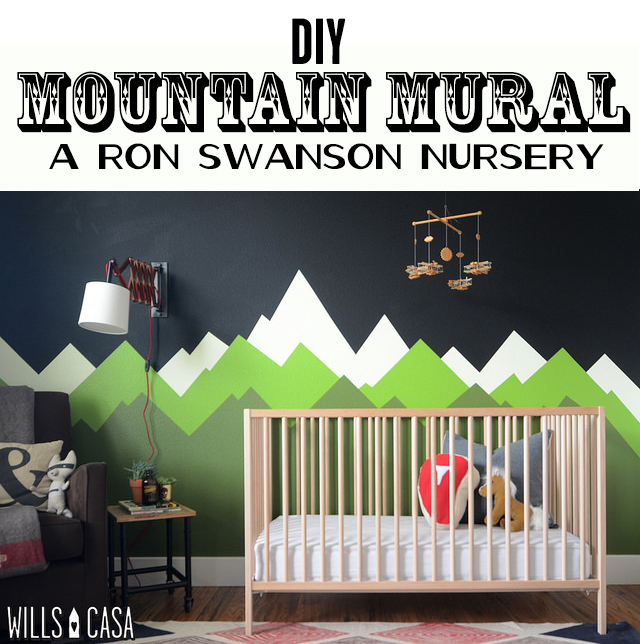 Ever since we saw this picture from the Ace Hotel, we knew we wanted that mural in our nursery. Plus we are real into doing cool stuff with paint (see concrete floors). The mural was the first step in creating our Ron Swanson Chic nursery. Yep that's a style people.
Sherwin Williams was having a 40% off sale, so we headed over. We got quarts of each green. Although we could have got samples of the 2 lighter colors – Overt Green and Citrine. The Citrine is a very light lime. It reads more white in photos then it actually is. The Tricorn Black is the same color as our doors. It's absolutely the most beautiful black ever, so I got a gallon of it. The black is flat and the mountains were mixed as satin. I thought that would add some more dimension to the mural.
Nick was the master of design on this one. He sketched the pattern out on graph paper and drew the lines on the wall with a large leveled ruler. It was one of those projects where we played to our strengths – Nick with the design and me with patience to make it perfect. Dividing it this way was so helpful especially since someone had to watch the kids. We found out you can't work on a nursery when your kid is asleep in there. Ruling out nap time and nighttime is really constraining.
I taped the lines off with Frog Tape. Then painted. You can see how some of the black needed to be painted over (top right, bottom left). I had to sand the edges off so the lines wouldn't show up. It's similar to what you have to do when you're painting over stripes.
I'm kinda an insane perfectionist, so I can guarantee that each one of these mountain lines is crisp and pretty much perfect. If there was some bleeding, I just used a sponge brush or small craft brush to fix it.
It only took us a few days to complete the wall. You can see the difference between the white wall and the citrine here, but it's even more apparent in person. I love how the Garden Spot green is beautiful, rich army green. It's such a solid base color for the mural especially in contrast to the bright and light greens above.
First nursery project done. I love the mural. It's definitely something that can be easily transitioned to a big boy room too.