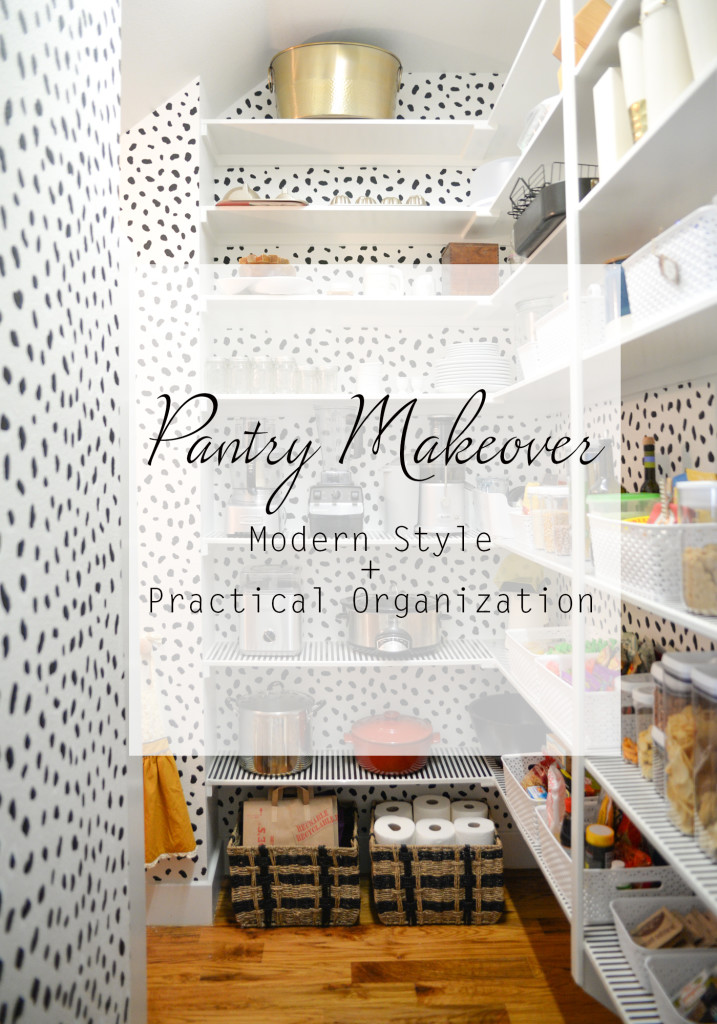 You guys, I disappeared for a month in my pantry and came out with the most organized (and possibly the prettiest) space I've ever had. Sometimes I go in there to just look at it. Then I eat a bag of chips or whatever.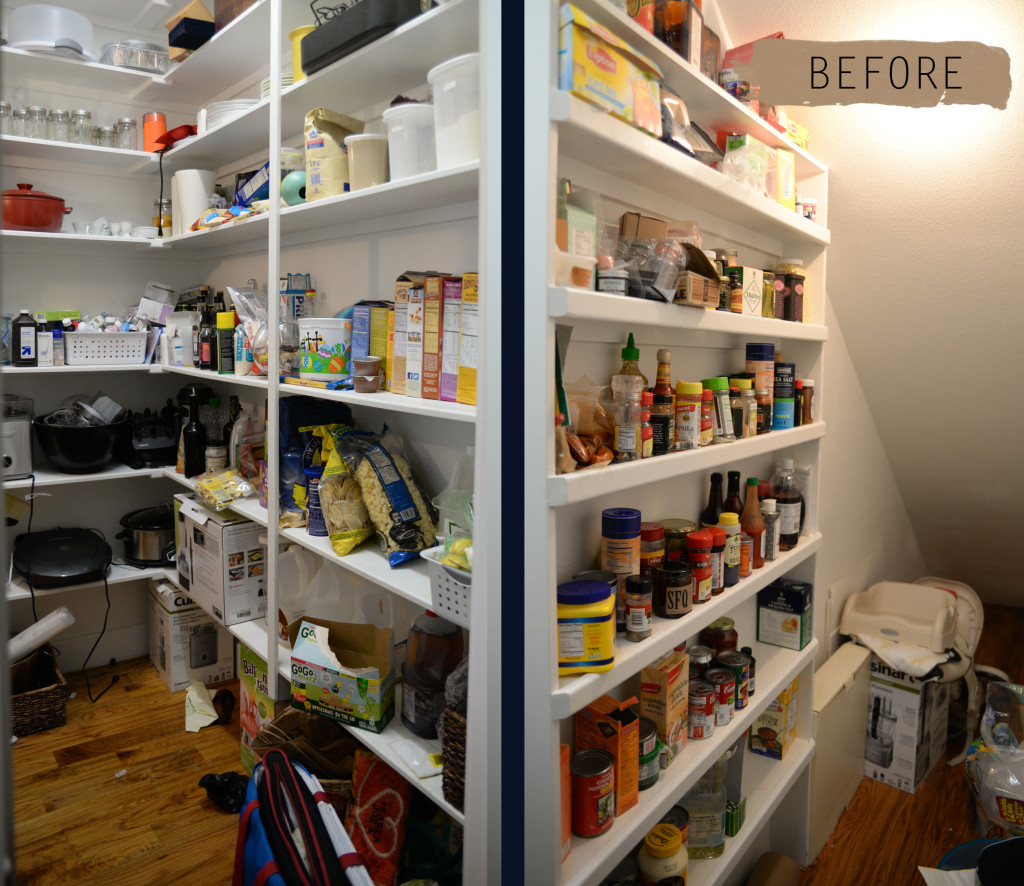 Since our pantry is fairly large, we've been getting away with chaos in there. It's embarrassing, but I'm all about transparency for the sake of an extreme makeover. The pantry is an L shape wrapping under the stairs (as seen in the slanting ceiling in the right picture).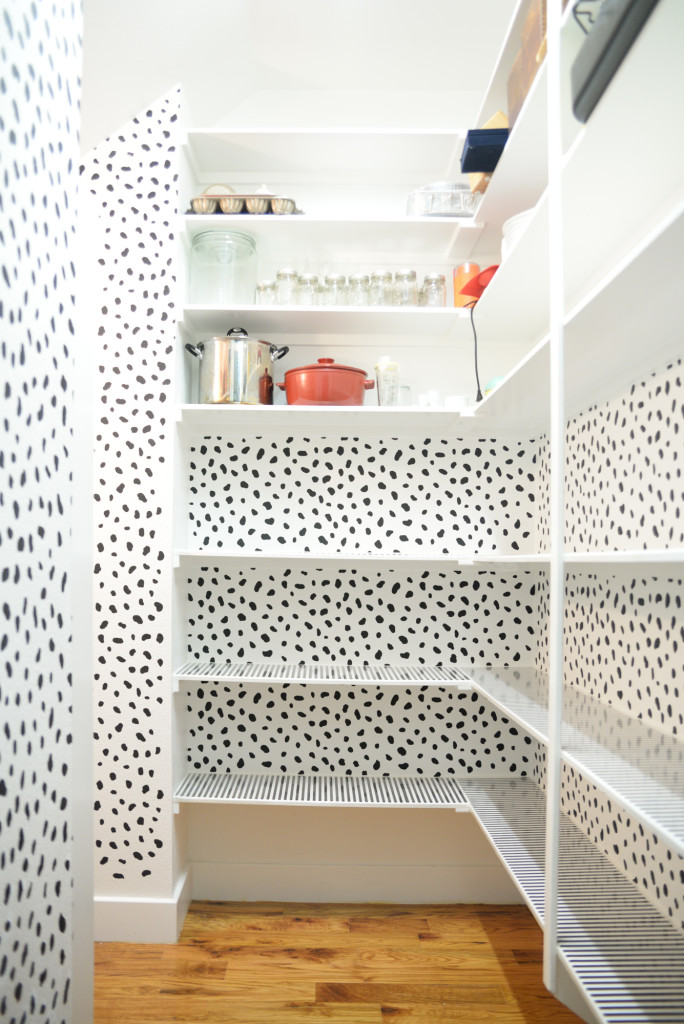 I used the Royal Design cheetah stencil. I've been wanting to find a place to use that stencil and behind my pantry shelves seemed like the most logical place. I mean obviously (said no one ever). I found some black and white striped wrapping paper and DIY'd it into shelf paper…more on that in another post.
Aside: I know this picture doesn't show all the spots on the wall, but I did paint every inch of that pantry with spots. I had to do the first 3 shelves, so we could move all our food back in there while I finished the rest. It took forever y'all. This also shows the liner with the spots. So good.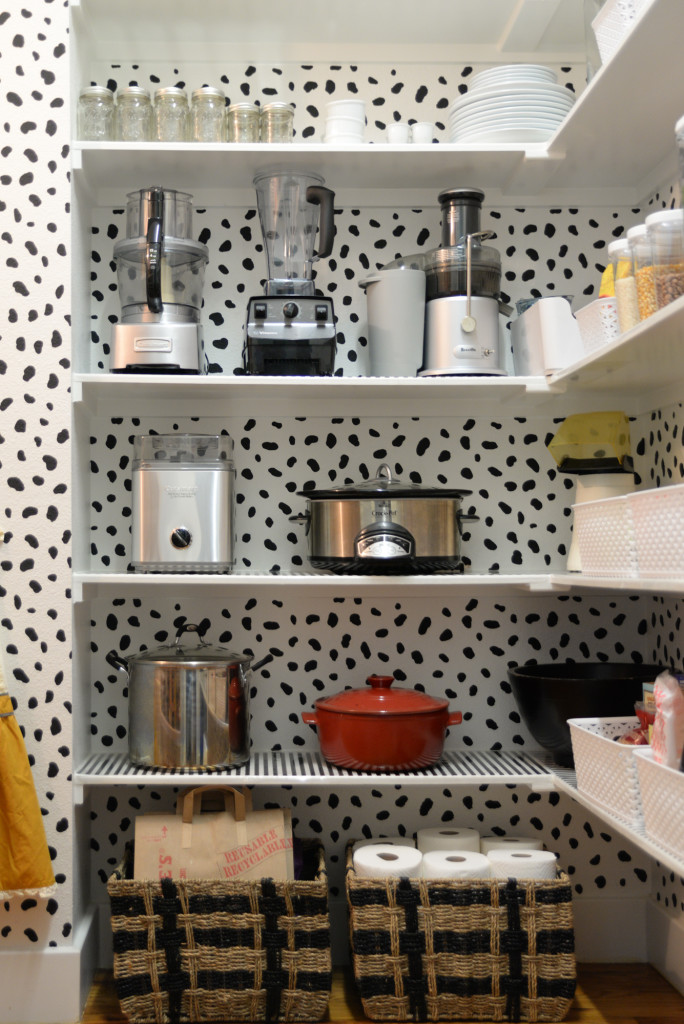 Apparently we are the king & queen of single use small appliances. They get used often, so I don't feel bad about it. I put a white bin for all the small part associated with the food processor and blender. The plaid baskets were the perfect find.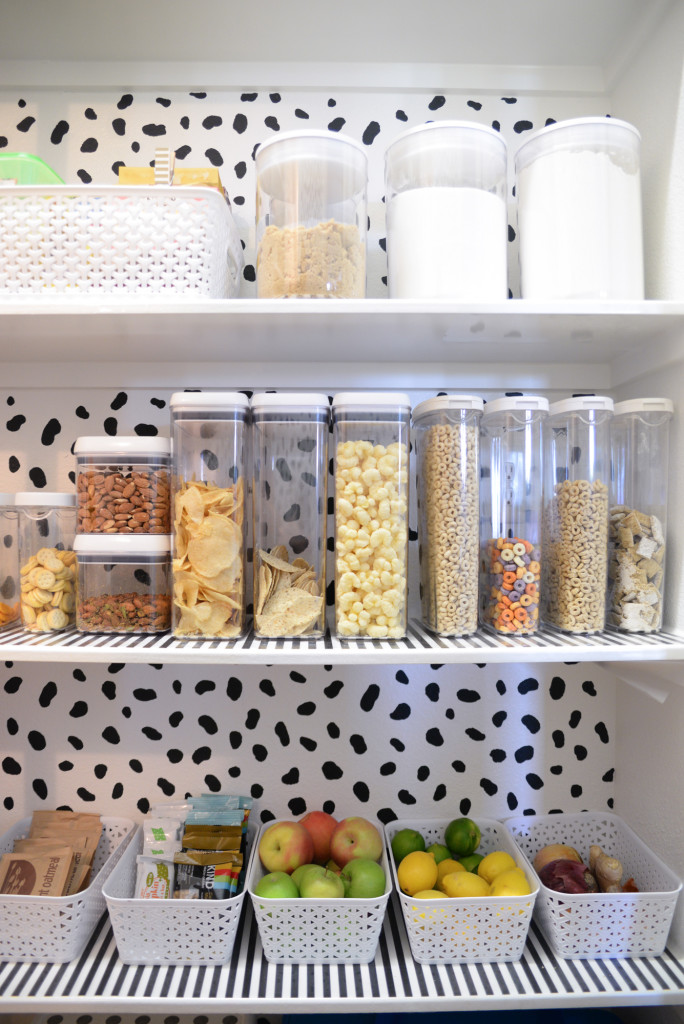 I found these canisters for my dry goods. I liked that they seal and were at a great price point. I put all the speciality flours in a bin next to them. I wanted the cereal in pourable containers from IKEA while snacks needed the larger containers from Walmart. I got the small bins from the 99 cent only store.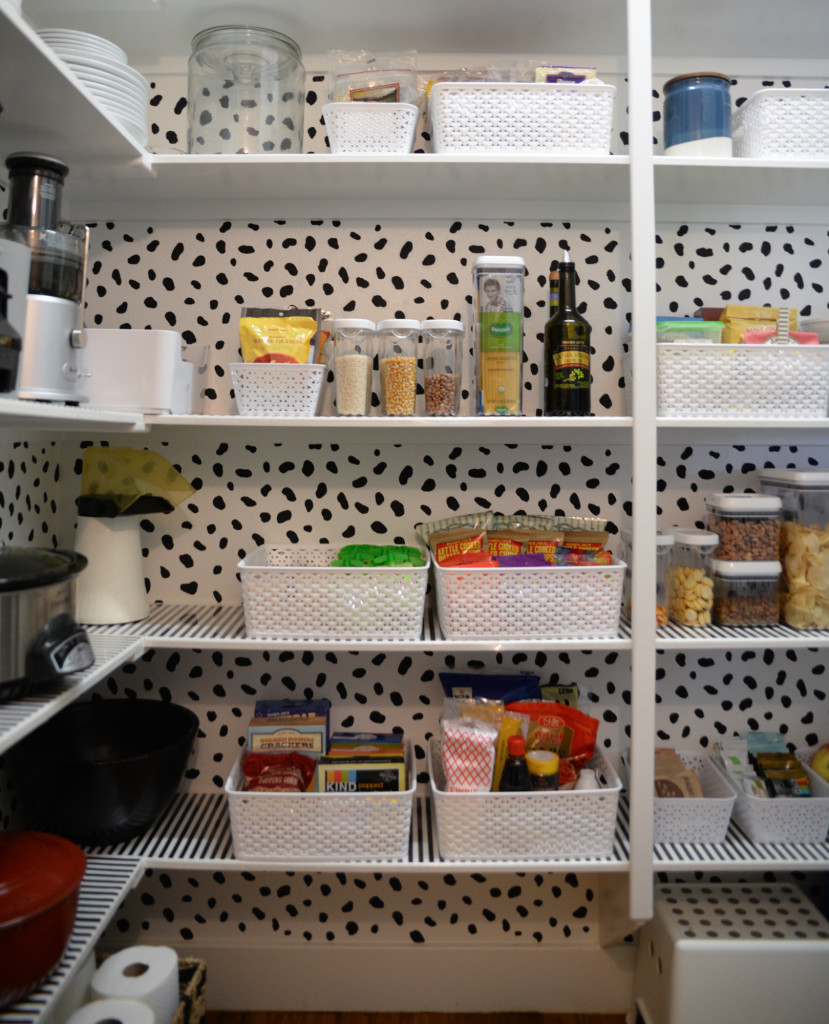 The larger white bins are from Target. They are Y weaved just like the ones I found at the dollar store. My target didn't have white as an option (only black and gray in store), but I found them online. They are heavy duty.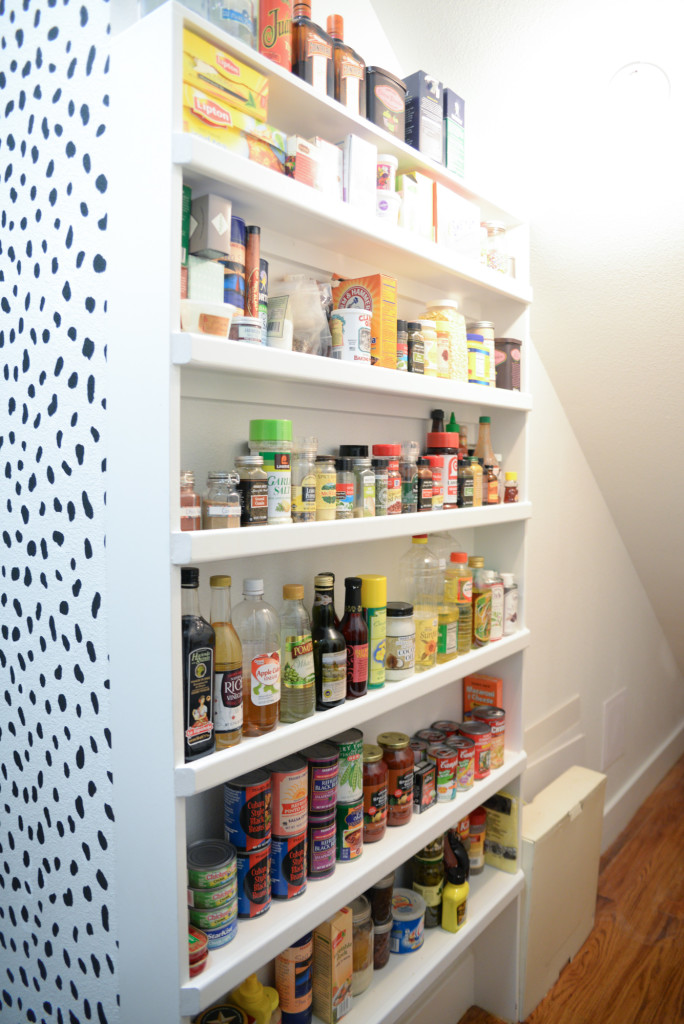 I even alphabetized our spices guys. Nick laughed at me. I threatened death if he didn't follow the alphabet when he cooks which then made me laugh thinking that he would actually put up a spice after he uses it. Laughter all around. 2 rows of spices, a row of oils/vinegar, a row of canned goods (that's it 1 row in the entire pantry).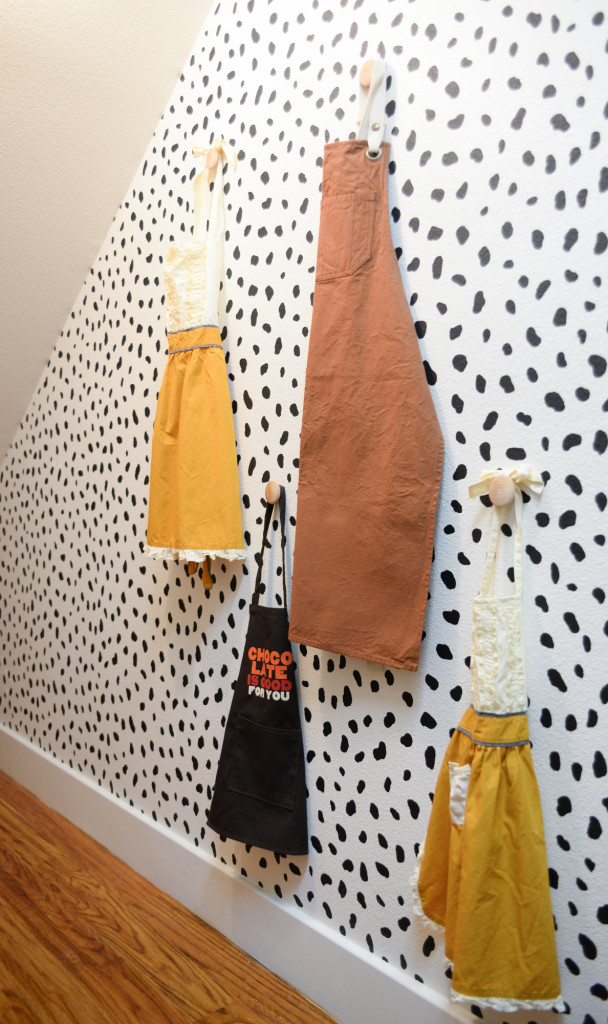 It's so clean in here. I hung up our aprons. Ramona and I have matching ones from Anthropologie years back. Nick's apron was bought when we went to alt. Beckett's is from Max Brenner in NYC.
The pantry makes all of our hearts happy. The kids are constantly in there and know exactly where the food is. Beckett eats apples and leaves them around the house. It's great guys. Real great.
I'm having one of those making the bed moments. You know they say if you make your bed then you tend to have a cleaner room. Well in this case it's if you have an organized pantry, you want everything to be organized.