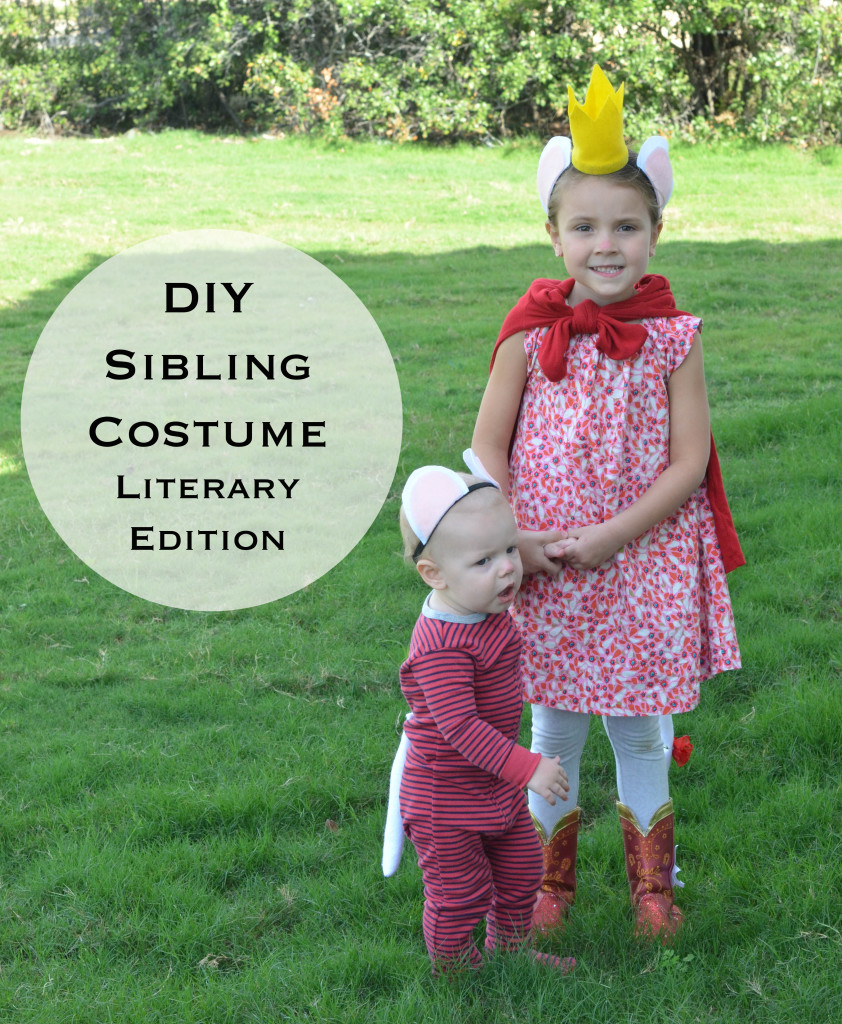 Yesterday I realized I had a few days before Halloween, and I kinda freaked. I had just enough time to order something off Amazon, and it get here in time for the first of the Halloween festivities. I mean talk about cutting it close. Amiright? I had everything in my cart ready to hit "place your order" which totaled over $100 with everything I wanted or around $50 if I cut it back to the bare minimum.
Then something happened. I bailed. I decided to DIY an epic sibling Halloween costume that my kids would look back on with such love and respect toward their genius mother. Ok so that's not going to happen, but I spent…$0 on their costumes and about 2 hours (because I have to photograph things for the blog). So be prepared to be impressed.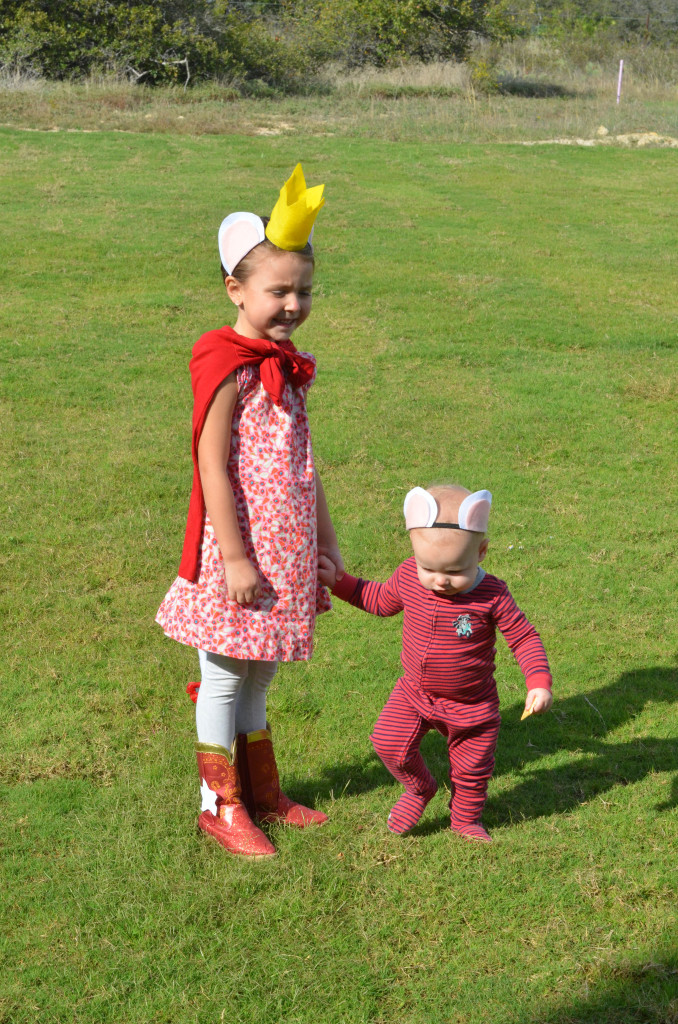 You're probably like um I have no idea who they are supposed to be. If you're like that then, shame on you for not reading children's books in your free time. Ramona is the exuberant Lilly from Julius, the Baby of the World, and Beckett is of course Julius, the baby…of the world.
I knew I wanted a coordinating Halloween costume for them. (They were Max & Ruby last year.) And I wanted it to be a book inspired costume. (I mean with a name like Ramona you basically always have to dress like something from a book, right?) So Ramona and I went and looked at her stash of books. When we saw Julius, the Baby of the World, it was more of a duh moment than an aha. So here's the insanely easy DIY for Lilly and Julius costumes.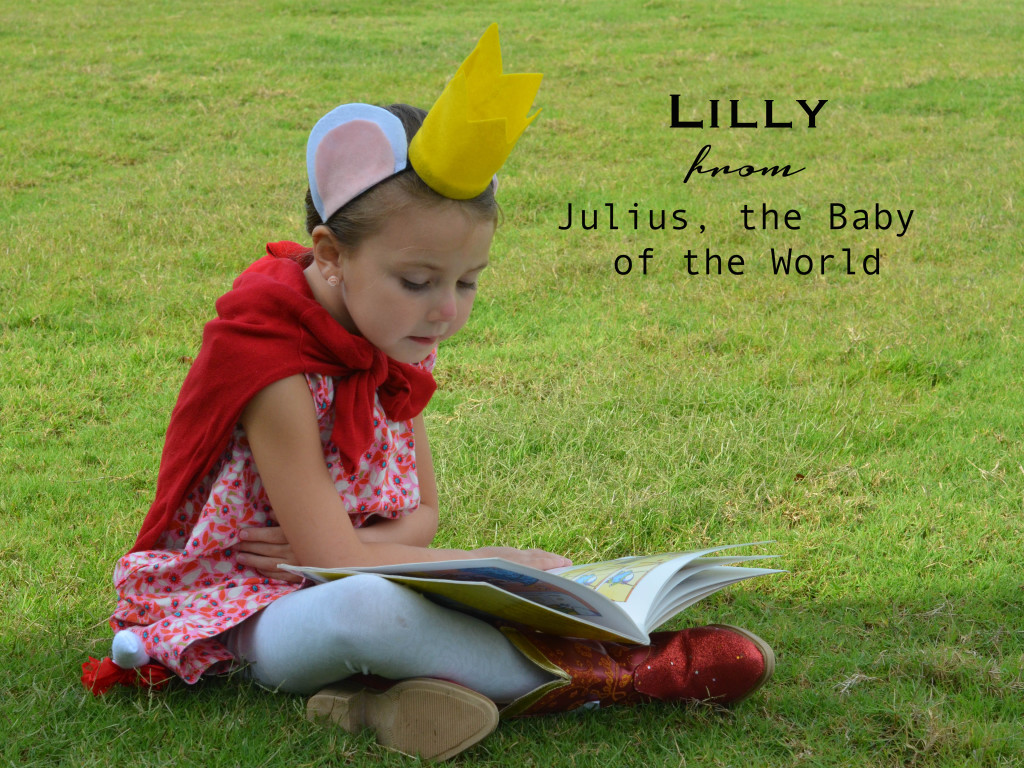 Gather for Lilly: a dress with a pattern (I sewed this last year); pink, white, and yellow felt; headband; red shirt; boots; pink lipstick to draw a nose.
Gather for Julius: patterned pajamas and more white and pink felt with a headband.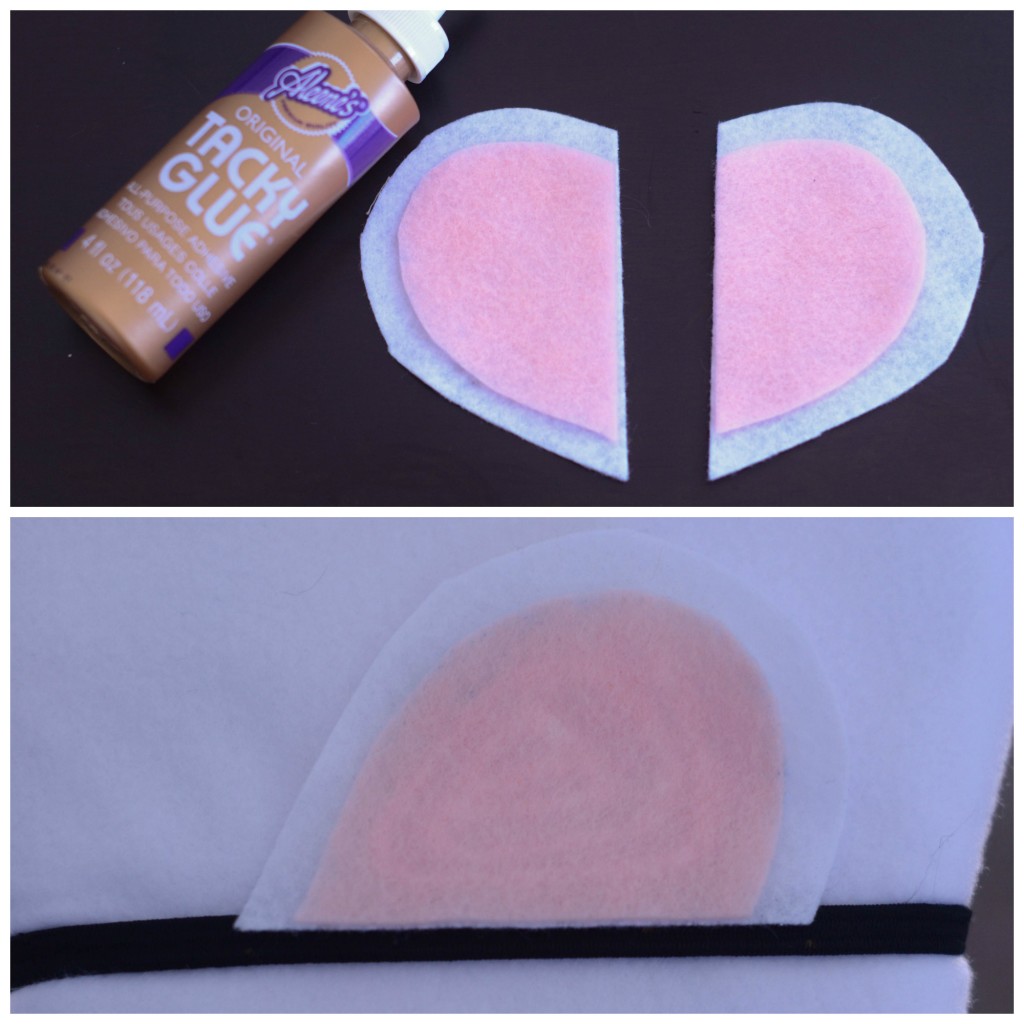 I used white and pink felt for the ears. (I have a felt assortment in my craft hoard.) I cut them in a near heart like shape and glued the felt together with tacky glue.
I used black elastic headbands to attach the ears. I put them on both kids and marked where to glue the ears since the headband stretches. Then I just stretched in on the ironing board until the ear lined up to the marks on the headband. I hot glued the ears on the headband.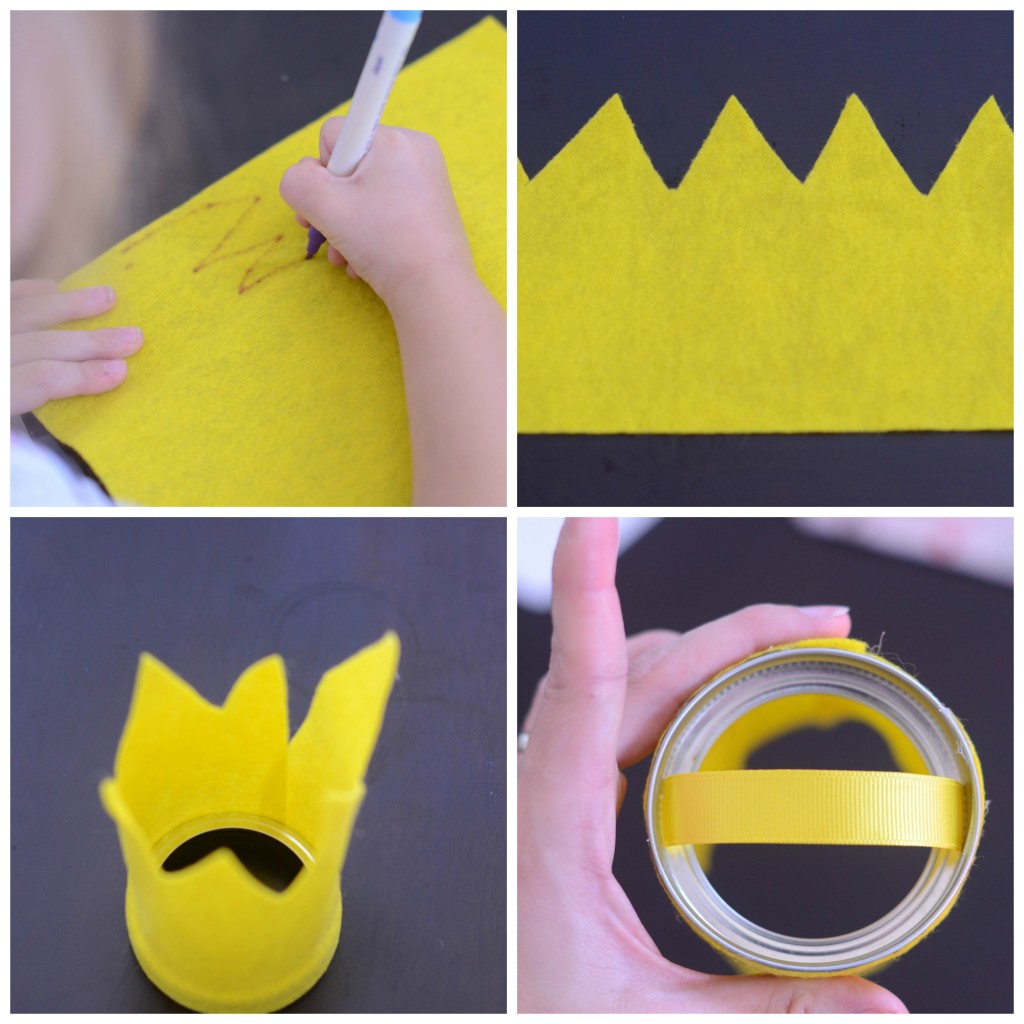 For Lilly's crown, I had Ramona draw it out on yellow felt. She was thrilled. I hot glued the crown to a mason jar lid to stabilize it. I ran a ribbon across it so I could attach it to her head.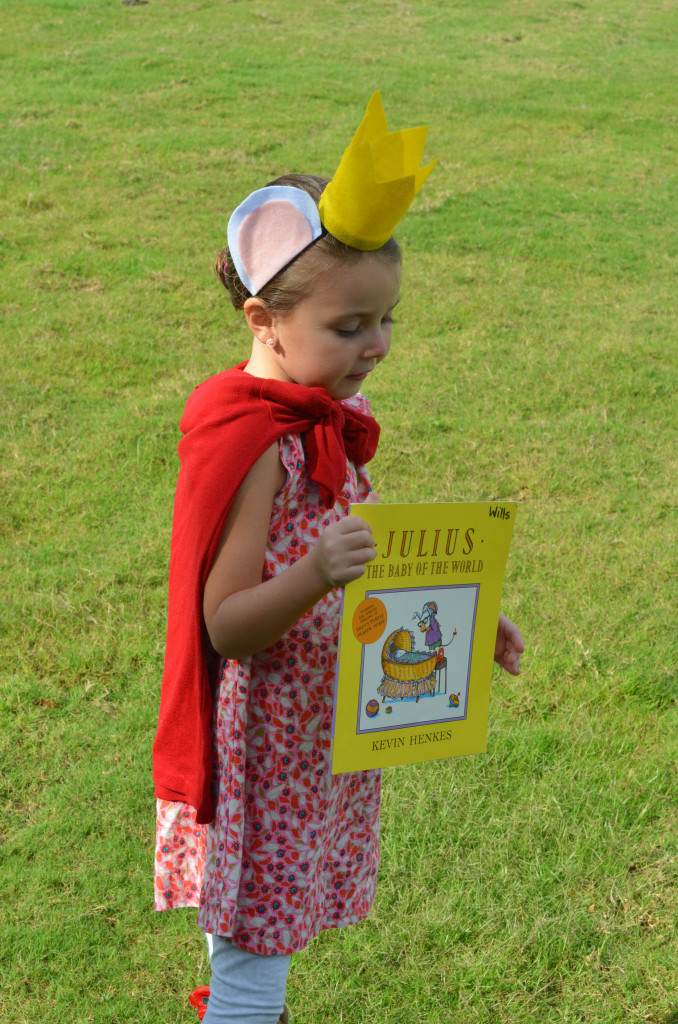 I used clips and bobby pins to secure the crown.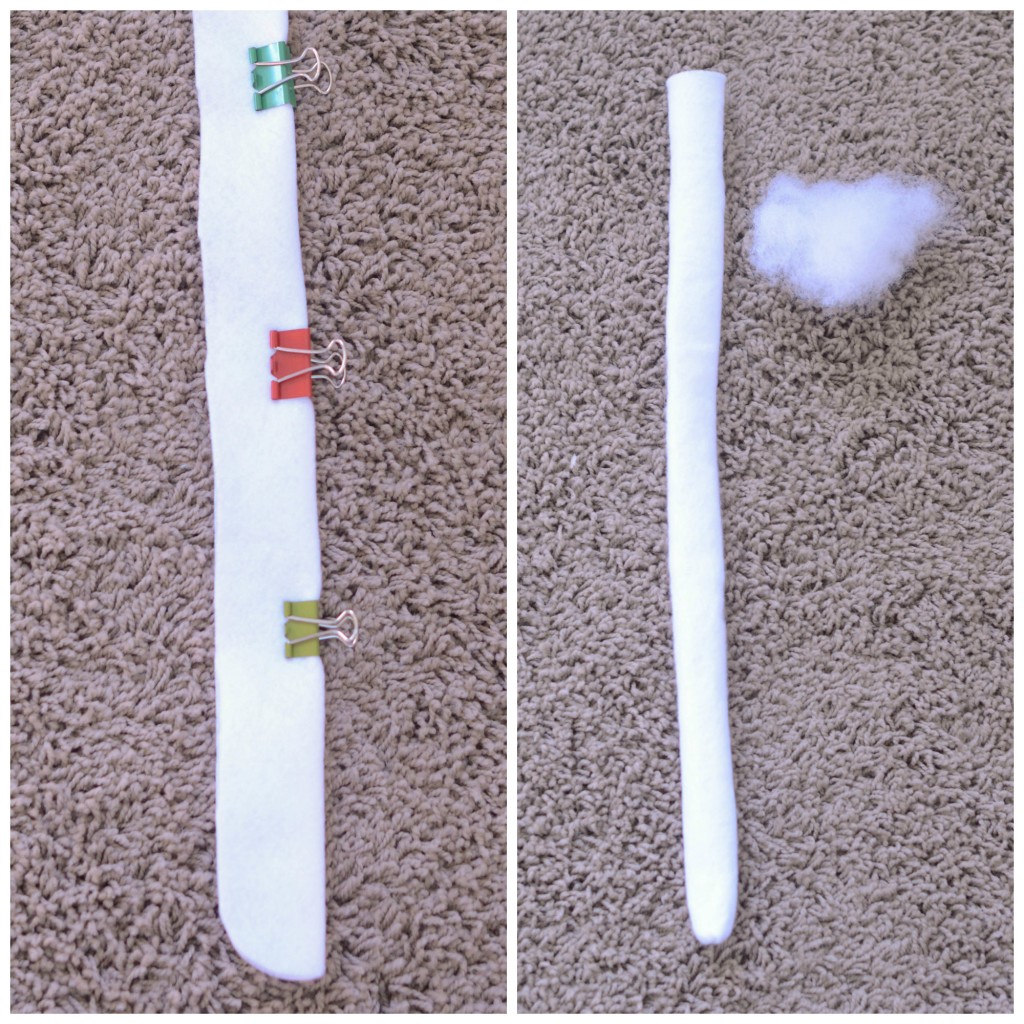 I used white felt for the tail. I cut the width to 3 inches and rounded out the bottom. Sew and turn the tube right side out. I used a pencil since I sewed the bottom closed and the safety pin method wouldn't have worked.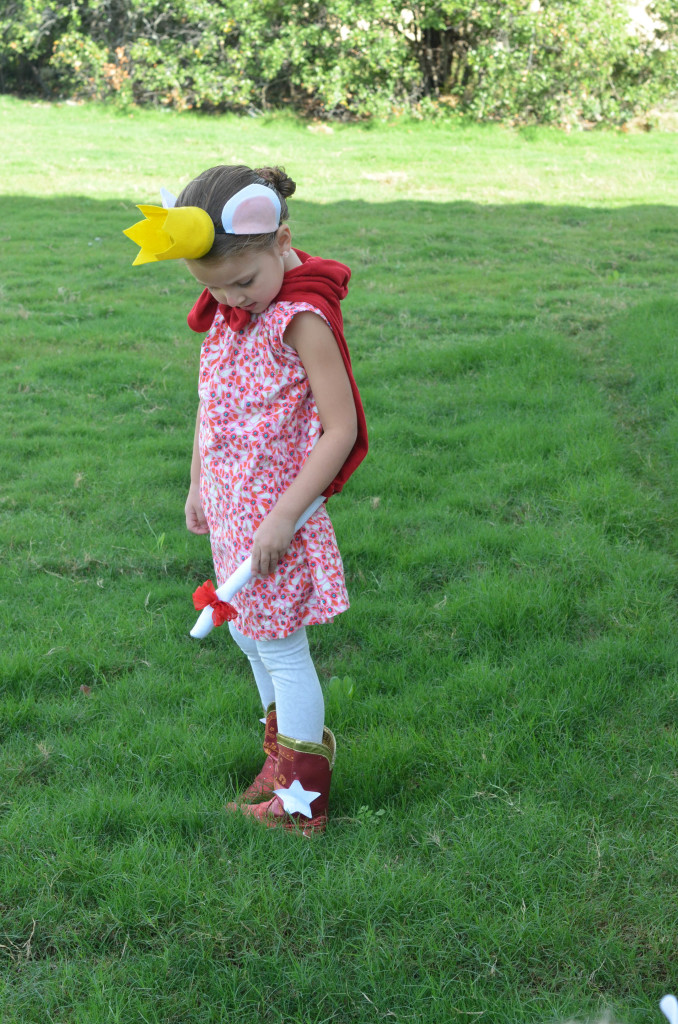 Add a little bow to Lilly's tail. This is actually one of Ramona's hair bows that I just clipped to the tail.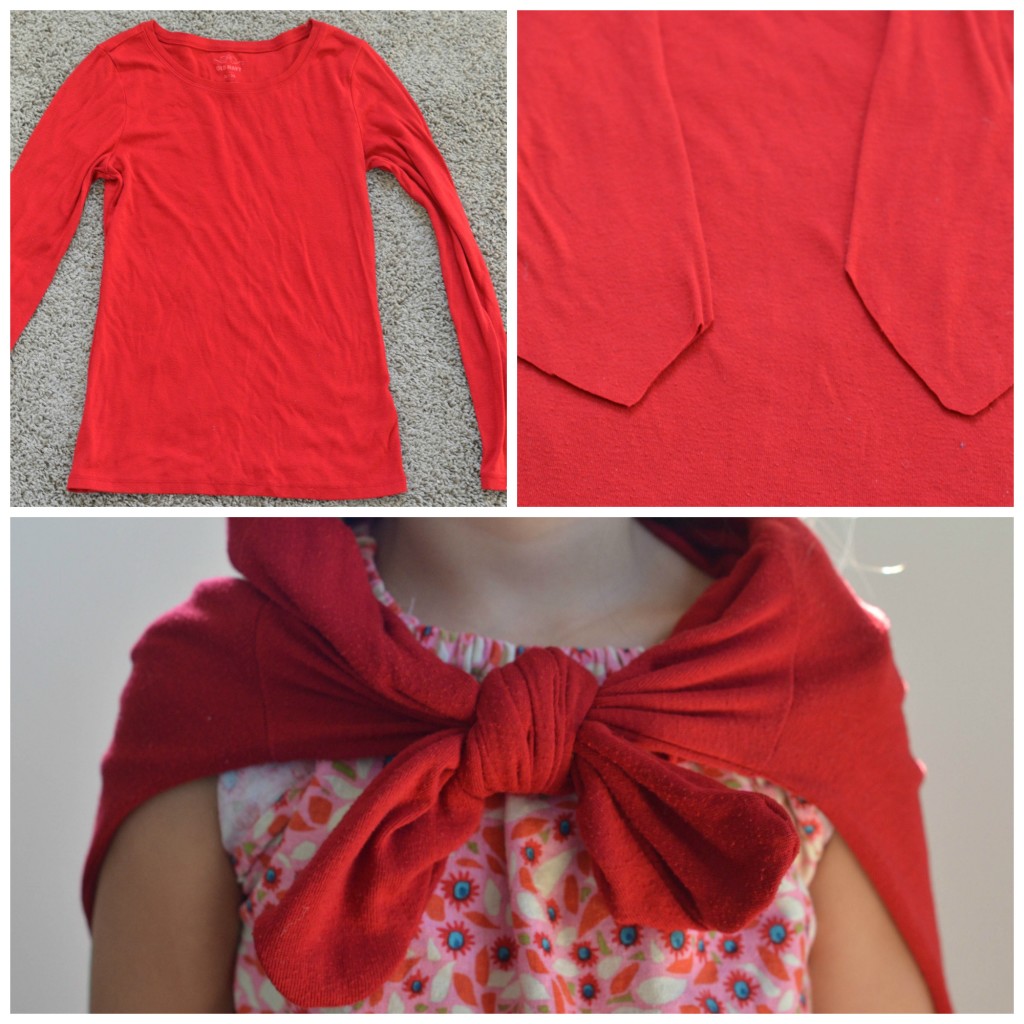 I used a regular women's size medium long sleeved shirt for the cape. I just the arms off into a U shape to create more of a bow look like in the book. I sewed it inside out and flipped it. I attached the tail to the cape so it wouldn't bother her when she sits.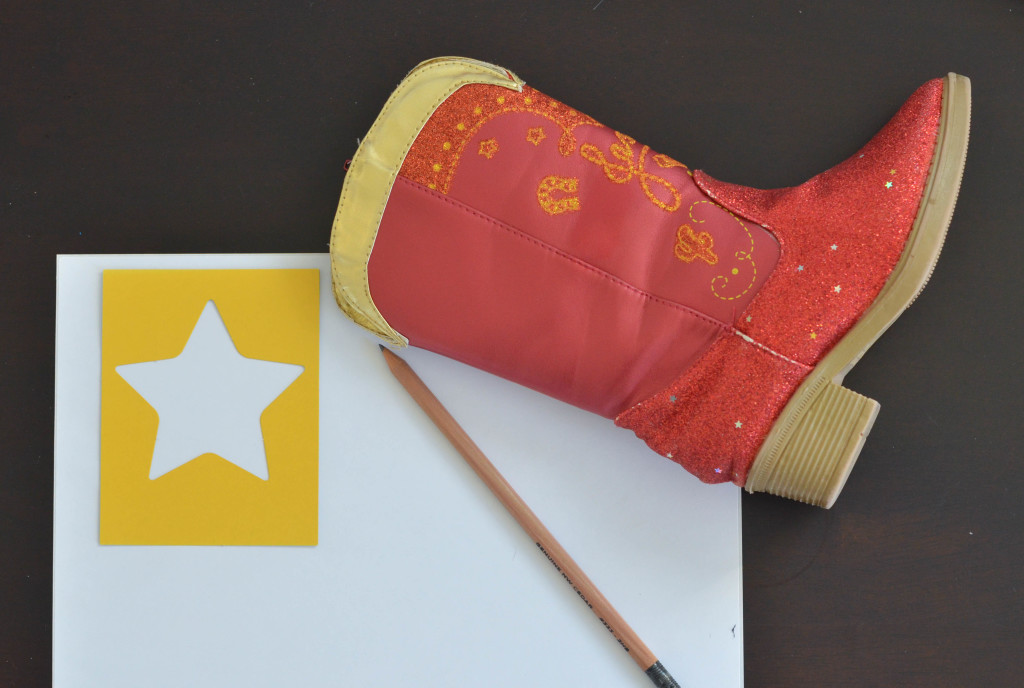 Lilly's signature boot is red with a white star. I traced a star on an Avery full sheet label and stuck it on a Jessie boot. It's all about working with whatever I had. It's a red boot. I don't care if it says Jessie on the front. Slap a star on it and turn it into a Lilly boot.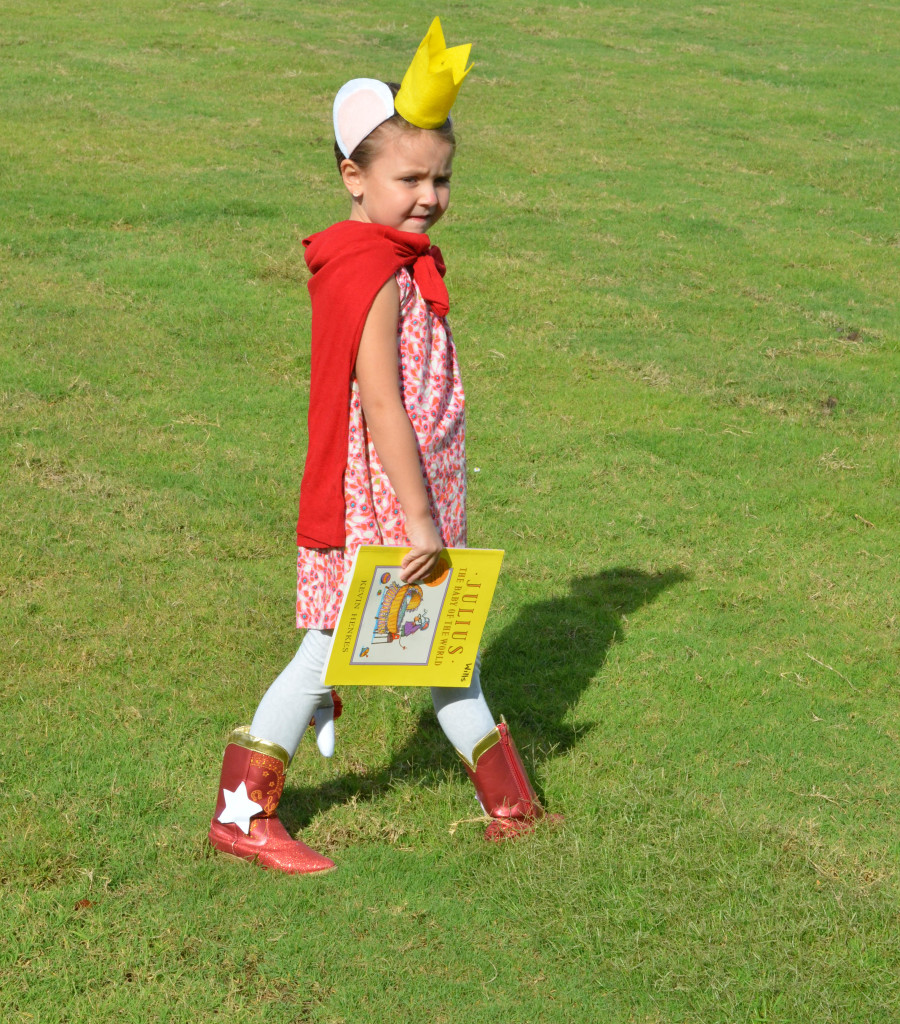 Ramona missed her calling on having her own fashion blog. She's just now learning her letters, so that might be the hold up.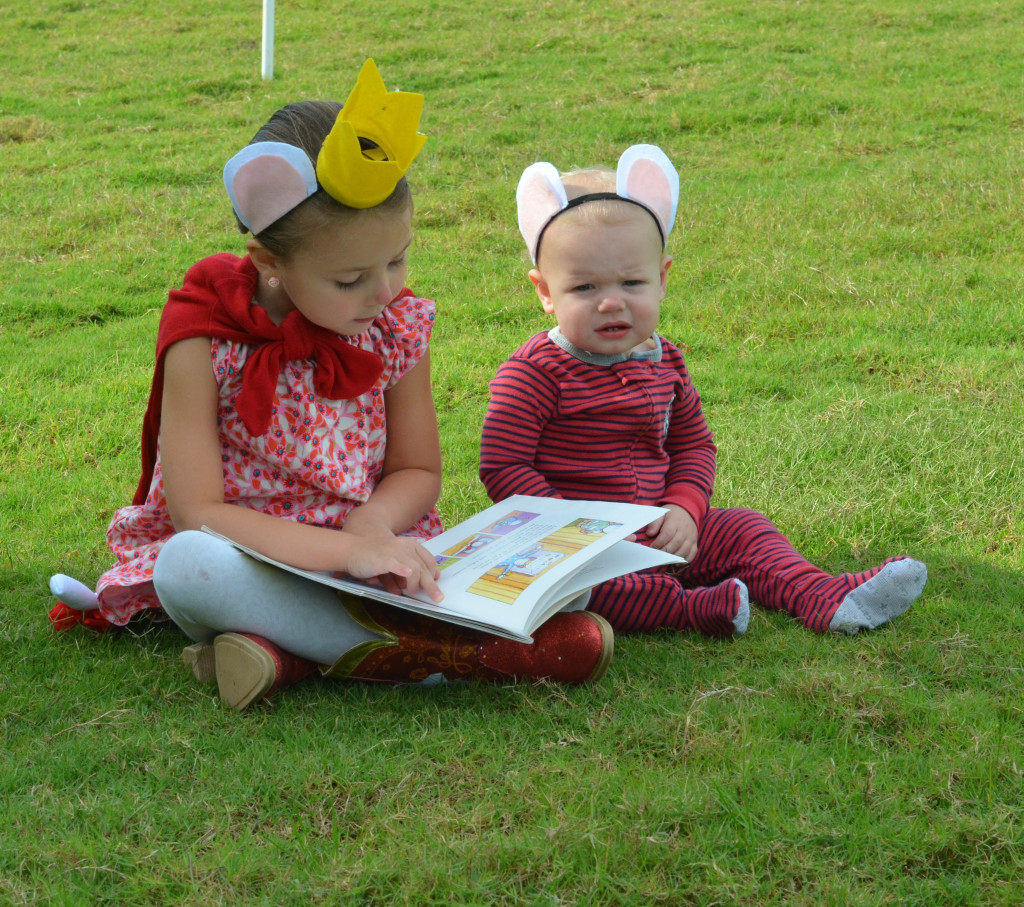 Julius is unimpressed with the retelling of his story.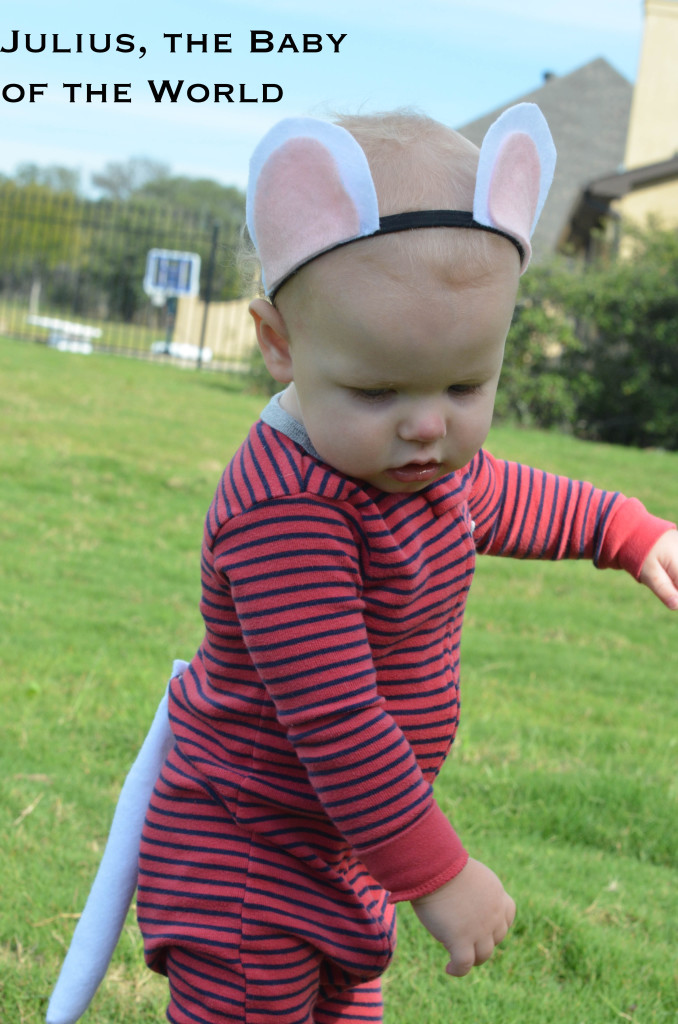 You just need pajamas for Julius. Make ears and a tail. Attempt to put a pink nose on him, and you're good. Beckett was pretty good about not ripping the ears off too. I think the elastic headband made a big difference.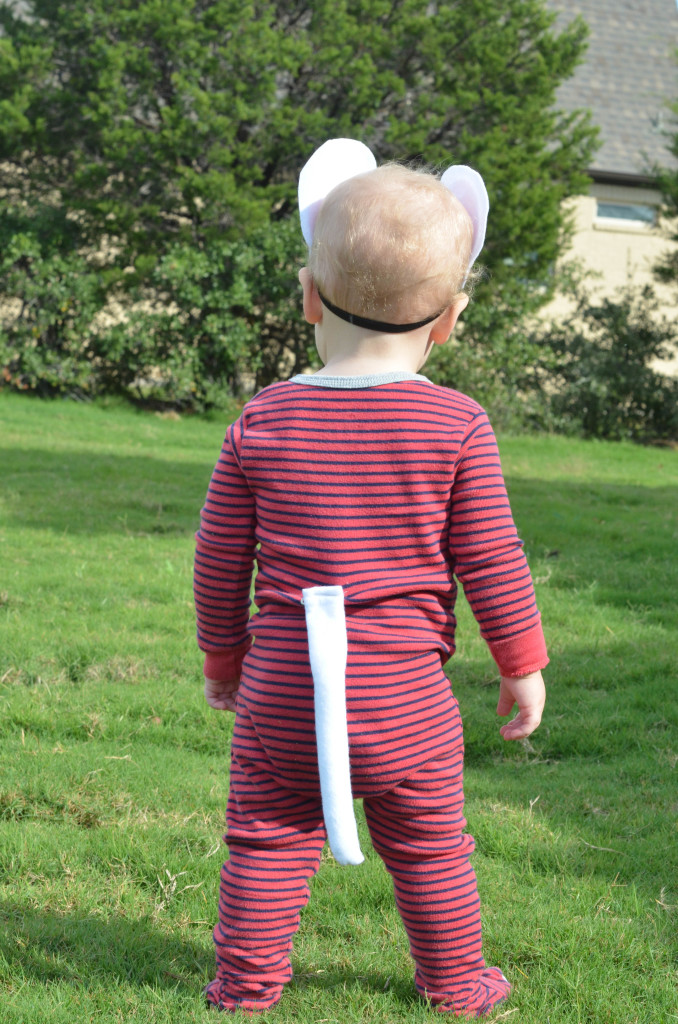 It's a great costume for a newborn to age 2-ish range. It's simple. Most importantly there's not a lot that will make them uncomfortable.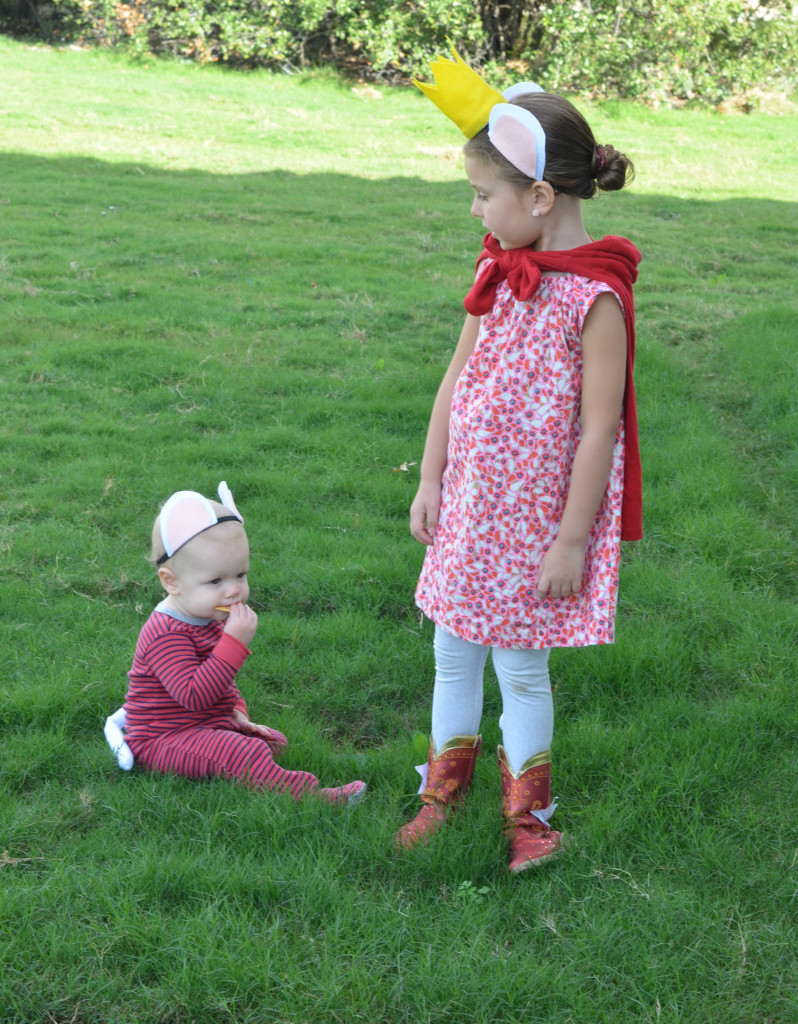 Lilly is one of Ramona's favorite characters. She is also the star of Lilly's Purple Plastic Purse, Lilly's Big Day, and Chester's Way.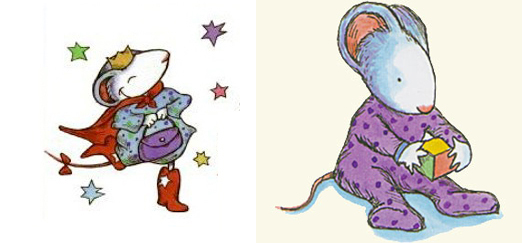 Here's an illustration of Lilly and Julius. They are always in some type of patterned outfits – polka dots, stripes, whatever. So easy to find something in your child's closet to work!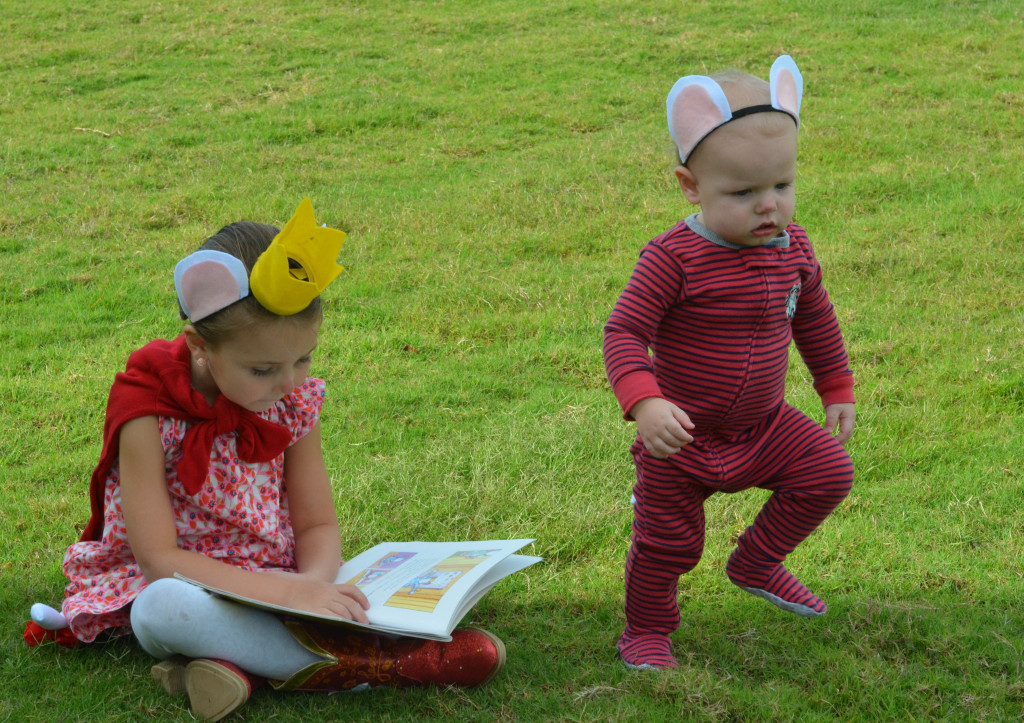 Beckett is ready for the candy, so bring it on. Me too buddy.
*This post contains affiliate links.