So last week (actually, the week before but who's counting) Amber talked about the Mountain mural we did for Beckett's Nursery.
Today I'm going to talk about the inspiration for the Ron Swanson theme and show the rest of the nursery.

Like all stories involving Ron Swanson, the story starts with meat. Specifically Meat Fight, a local BBQ competition. Local chefs compete against each other, everyone has a blast (the pic above is us from Meat Fight 2012) and all the money raised goes to the MS Society.
Last year, when they announced that the special guest judge was Nick Offerman we pretty much freaked out. I assumed that we wouldn't really get any interaction with him, but as it turned out he pretty much just hung out. It was pretty awesome.
As he was getting some coffee from a local vendor, I walked up to get a pic with him (the one above)…. yes I got my very own Ron Swanson selfie (!!!). Immediately afterwards I asked, "Would it be weird if you took a picture with my baby?"
To which he immediately responded "Son, Life is weird."
It was the most Ron Swanson moment ever. Beckett was totally into it.
As we were leaving, we snagged one of the limited prints for the nursery. At that moment, the theme was pretty much set.
So we're not really into "themes," so the theme in this case is more of a mood. We wanted a rustic, woodsy feel to the room. We wanted it to still be our aesthetic (white walls, some mid century mod pieces) mixed with a mountain man/log cabin vibe (lots of wools, plaids, antlers, etc). Of course, lots of wood tones.
Here is what we came up with.
See the stamped curtain tutorial.
We tried to keep the budget to a minimum with this project because Beckett was already 6 months old when we moved into the house.
We used a ton of things we already had (rocker, dresser, etc) and bought price conscience items for the rest (ikea crib, urban outfitters rug – $15).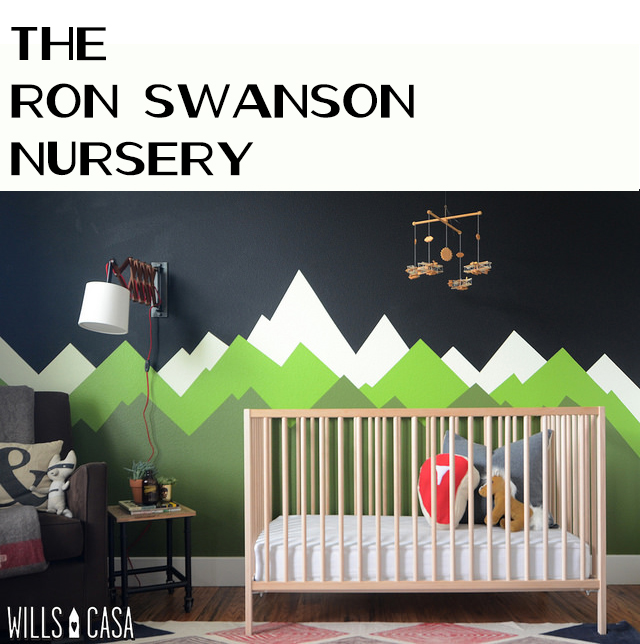 Overall, we are really happy with how it turned out. See any Parks & Rec references?