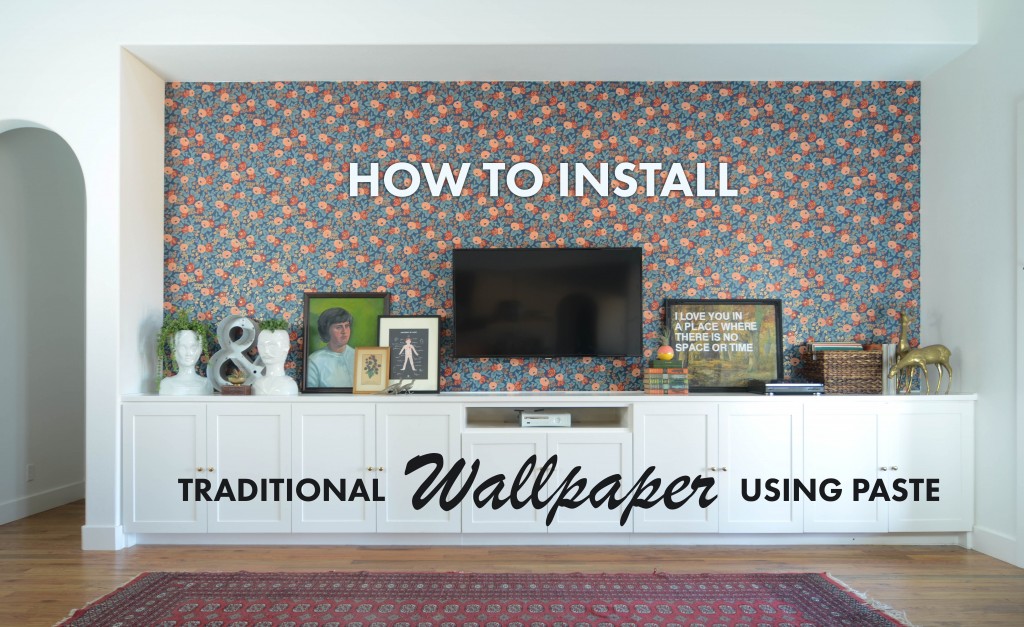 It's the post you've all been waiting for – the big reveal of our wallpaper. We gave you some sneak peeks over a month ago on instagram, but today you get to see it in its finished glory and hear read all about how to install wallpaper using paste.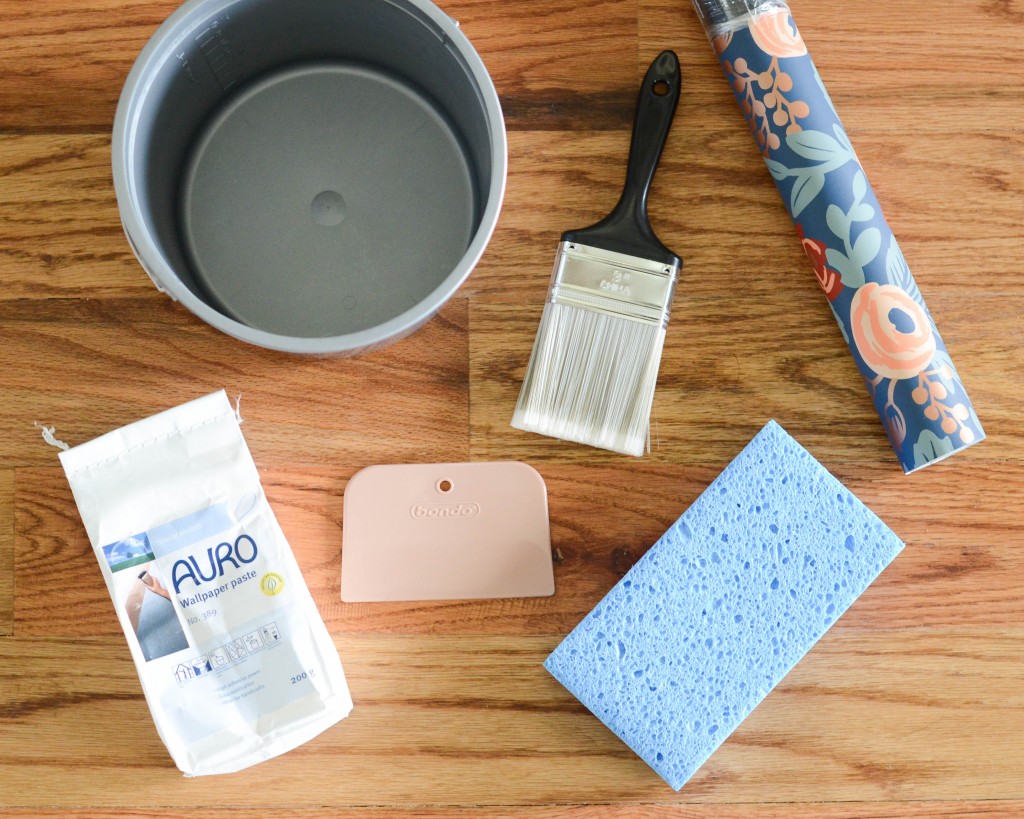 Supplies: wallpaper, wallpaper paste, bondo spreader (affiliate link), brush and roller to apply paste, x-acto knife, sponge, 2 buckets – 1 for the paste and 1 for water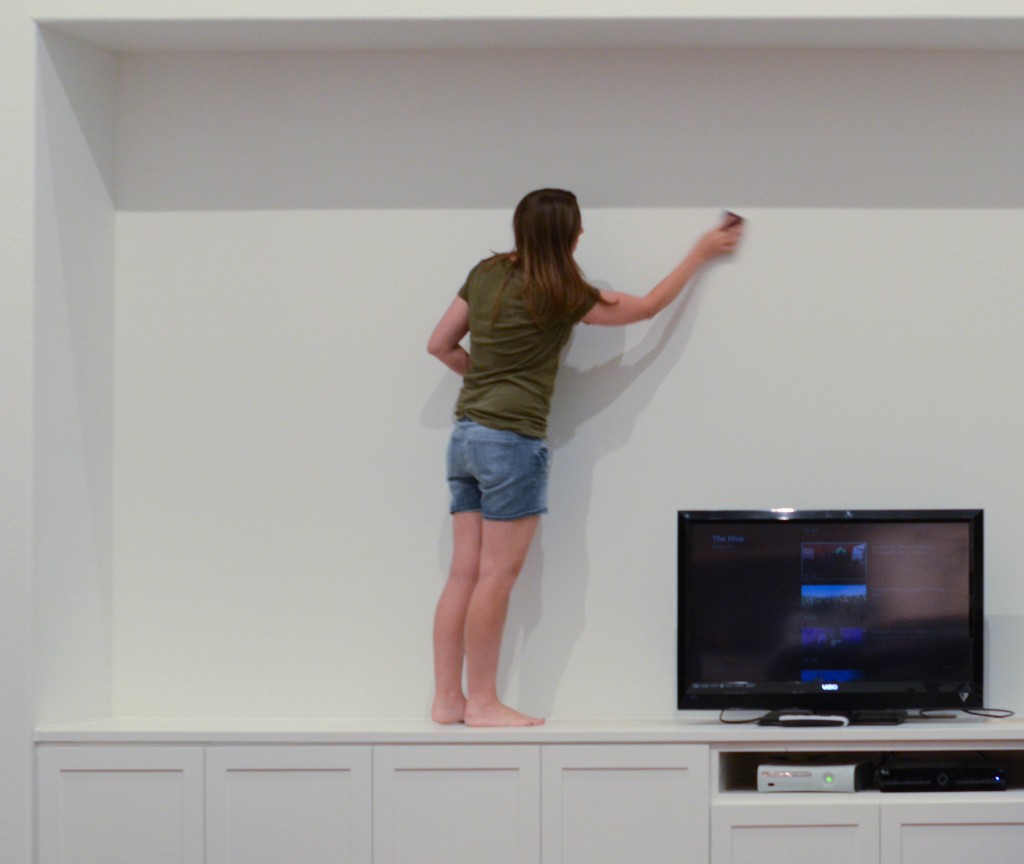 Our wall was prepped because we skipped out on texturizing it when we built. There was some overspray, so I sanded the wall with medium grit sandpaper to get it as smooth as possible. Then wiped down the wall with a microfiber towel.
Draw a plumbline starting at the width of your paper + 1/4″. Measure at the bottom then have the line run perfectly straight up the wall. Walls are rarely straight, so this will be a perfectly straight vertical reference to hang your first strip.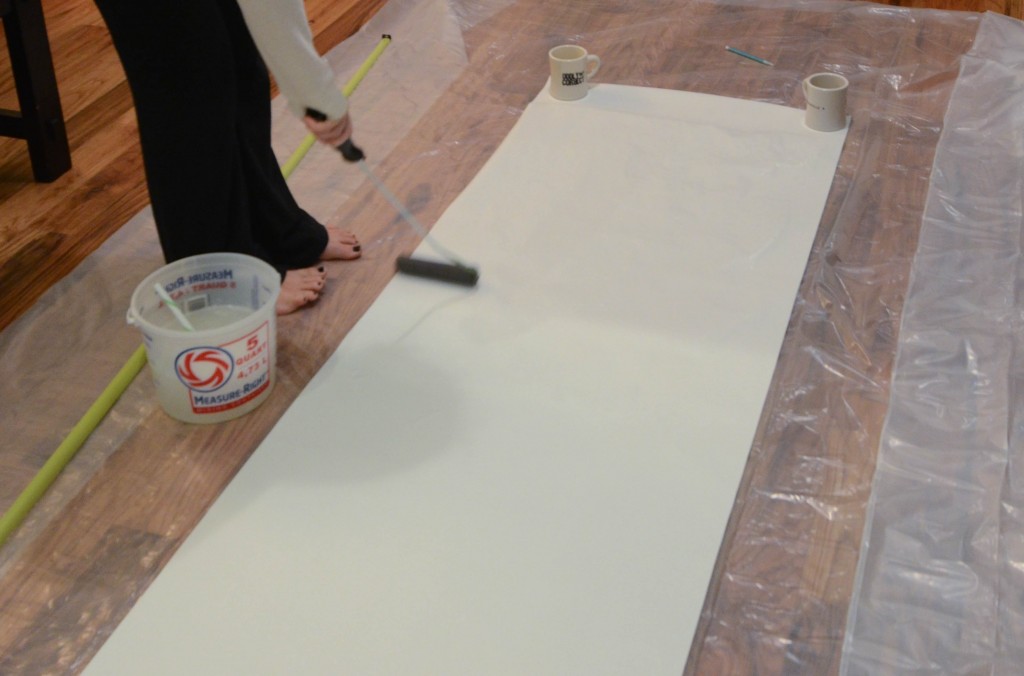 Cut your first strip by taking the height of the space + 3 inches, so ours was 83″ and we cut 86″ leaving space at the top and bottom to trim excess away. Our wallpaper paste was eco friendly and super awesome. However a word to the wise, read your paste instruction carefully before you start. Ours had to sit for 1 hour before use. We got everything ready to go then just did nothing for an hour waiting for the paste to swell.
We set up an area in our entry to roll the paste onto the paper. I used a foam roller and a paint brush for the edges. Liberally apply the paste. I found that it was exponentially easier to get the paper up on the wall when I had used lots of paste.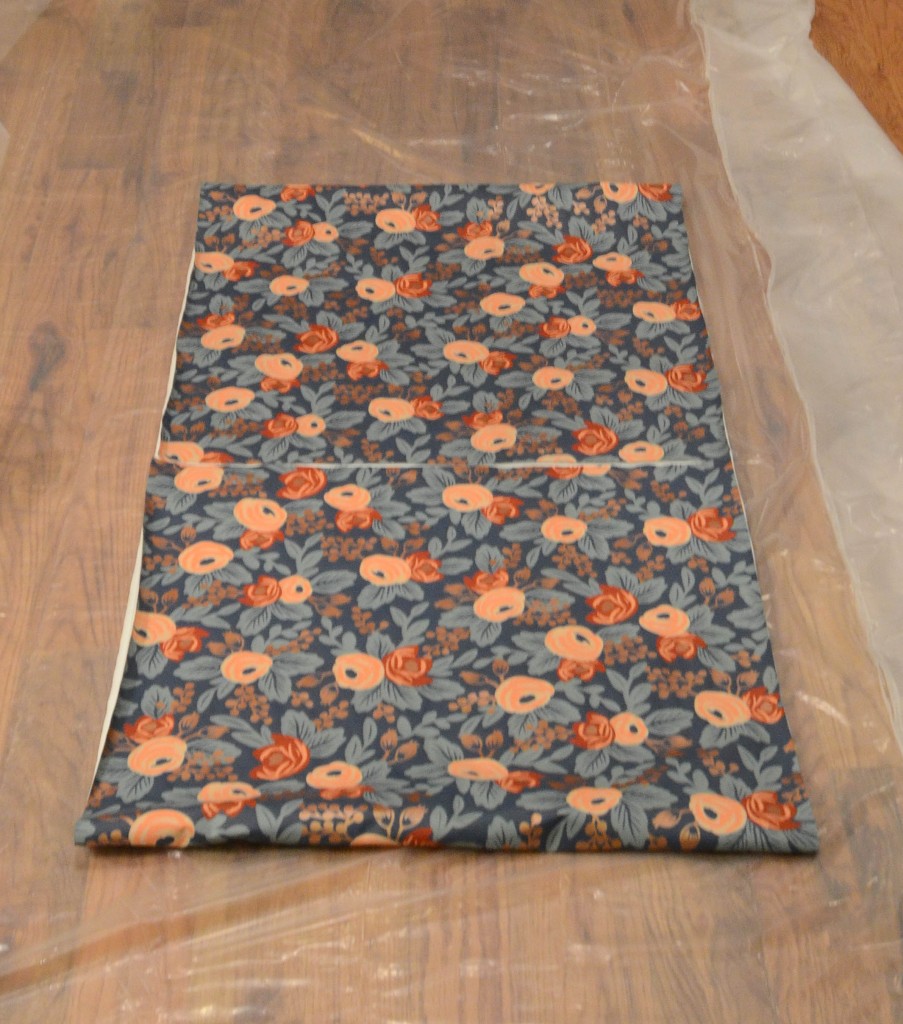 Once your paste is on, you will need to book your paper. Fold top down to the middle; fold the bottom up to the middle. Booked. I pressed the sides down too. It keeps the paste from drying out while we waited the required 5 minutes for the paper to relax.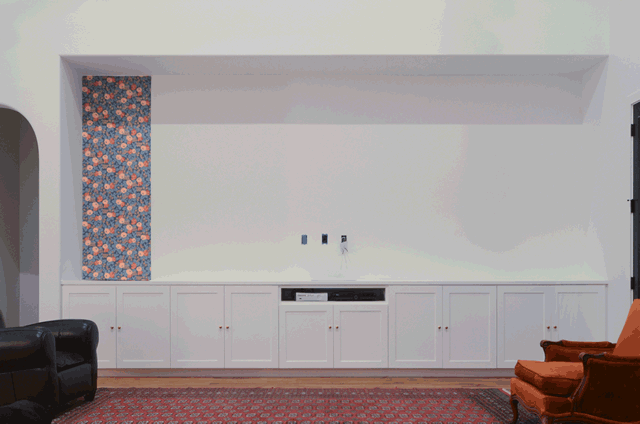 So we wish the installation was as quick as this gif, but it took us 3 nights working into the wee hours of the morning. After you get your first strip up, you need to line up your pattern before cutting your next strip. We lined up the pattern for each subsequent strip then measured 83″ from that point (the height of our wall) and added 1.5″ to that for excess to trim at the bottom.
Use the bondo spreader to smooth out the paper. I had the most success starting at the center of the strip and pushing the paper down and to the side. Center down to the left. Center down to the right. Repeat. A million times. Smoothing that paper on the wall.
Our wallpaper is hand printed, so it killed the perfectionist in me when it didn't line up exactly right. I kept thinking there has to be something wrong, but there wasn't. In fact what seemed so glaringly off while we were installing wasn't even noticeable the next morning.
Use the sponge to wipe down your paper twice. Get that glue off. I was really sloppy with my glue because it makes the biggest difference in how manageable your paper is. I just wiped it down really well, and it was perfect. It's amazing how durable the paper and the printing are.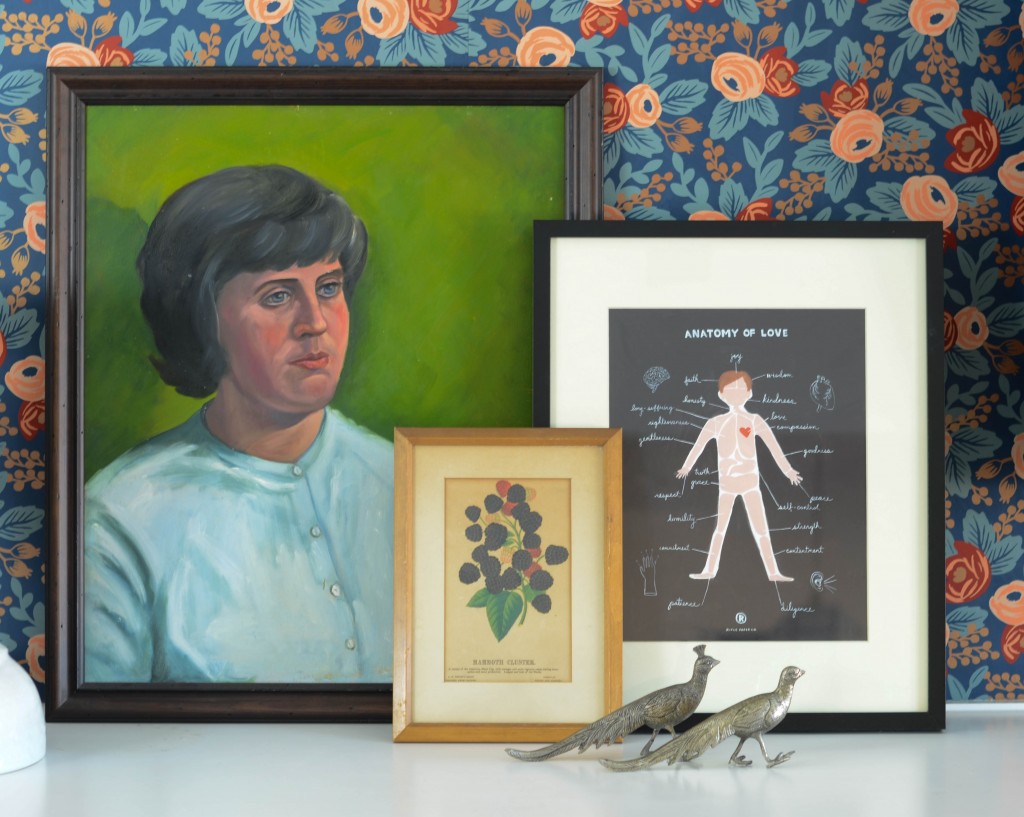 I used the bondo spreader and an x-acto knife to trim the paper. I held the spreader at the cutting point and sliced along the line. It was easier to trim when the paper was wet. However if you let it dry, it's not impossible to trim it then either.
How cute are these peacocks? My friend Nichole gave them to me for my birthday. Making 30 suck less. Phyllis approves too. Also we have a little bit of Rifle Paper layering happening here.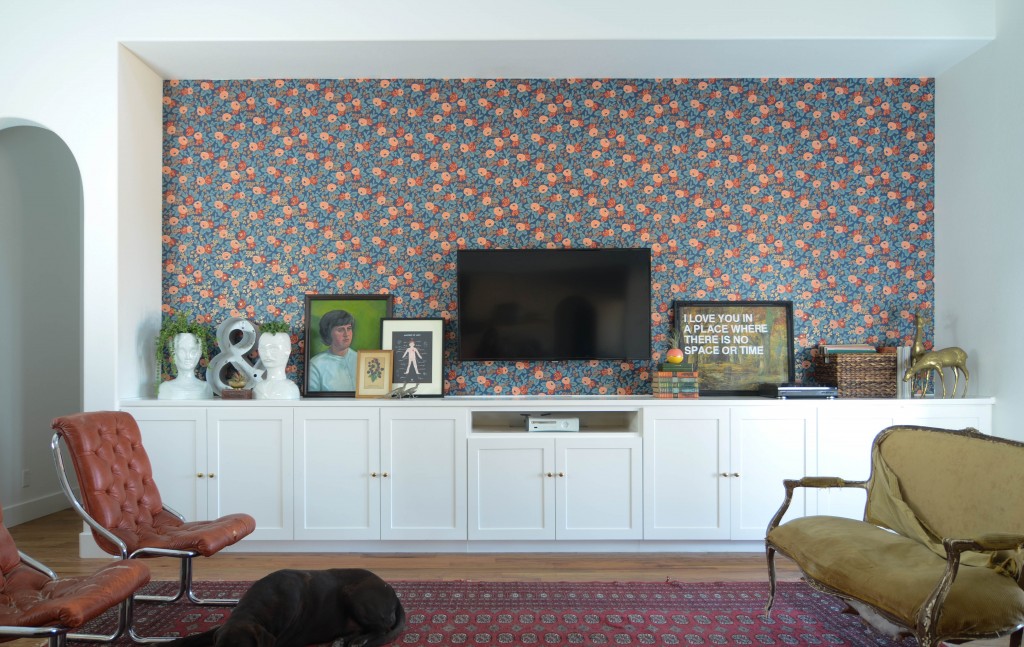 We aren't finishing the room up yet. I promised Ramona that I would do her room after the nursery, so she was a little upset we even hung the wallpaper (offset only by the fact we picked the one she wanted). However I moved in 2 of my upholstery projects and I'm liking what's happening in my head with this. Again not talking details with you, but it's 98% set in my head and 100% not going to happen this year. Here's looking at you 2015.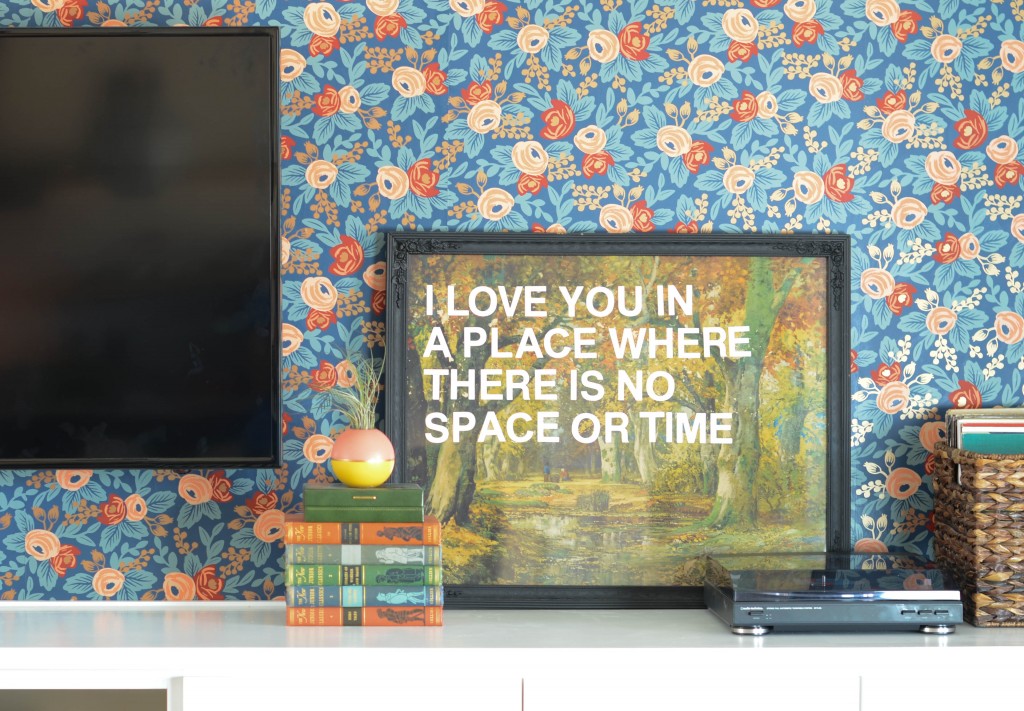 I won't commit to hanging anything on my newly wallpaper wall either. We need large art in here and lots of it, but for right now we are sticking to a few things stacked and leaning. Nick's DIY vintage art mod is very appropriately sitting next to the record player. The wallpaper really is art, so we are enjoying that until we are ready to officially tackle this space.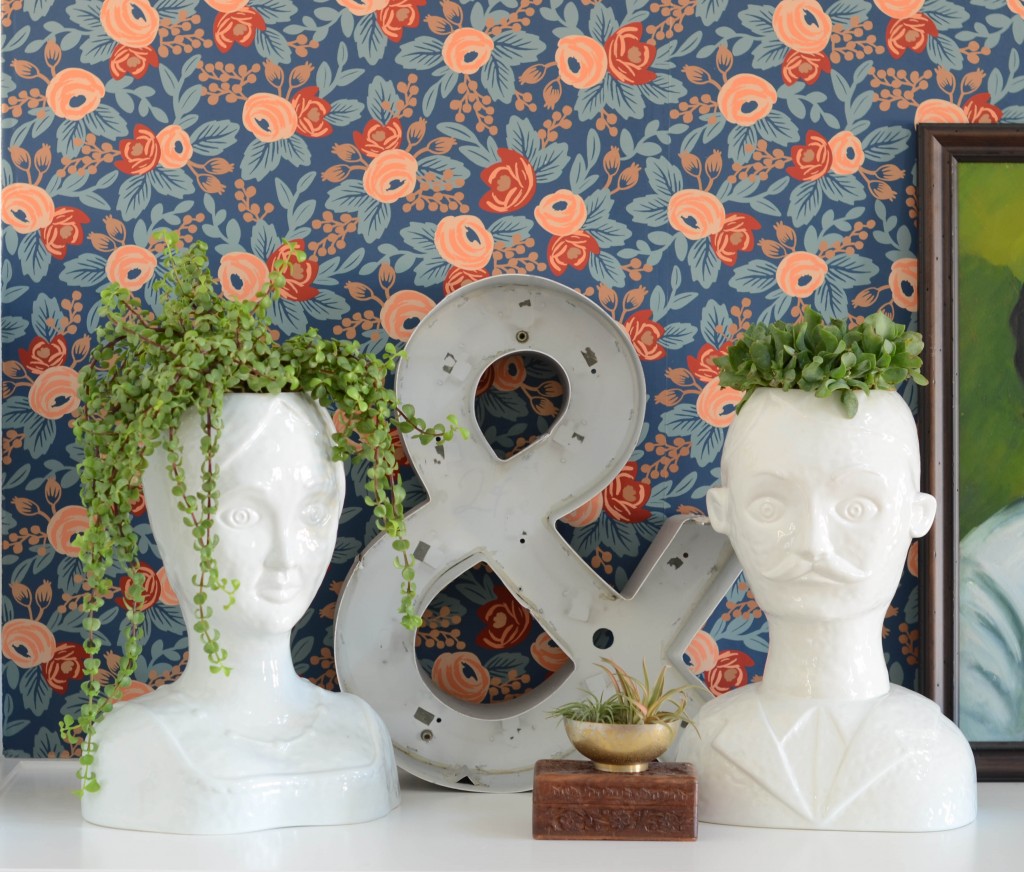 Our anniversary vases are finally unboxed after over a year of neglect. This will shock you all, but I've actually kept these plants alive for over a month!! It's a new record. Something green has not only survived but appears to have actually grown at Wills Casa.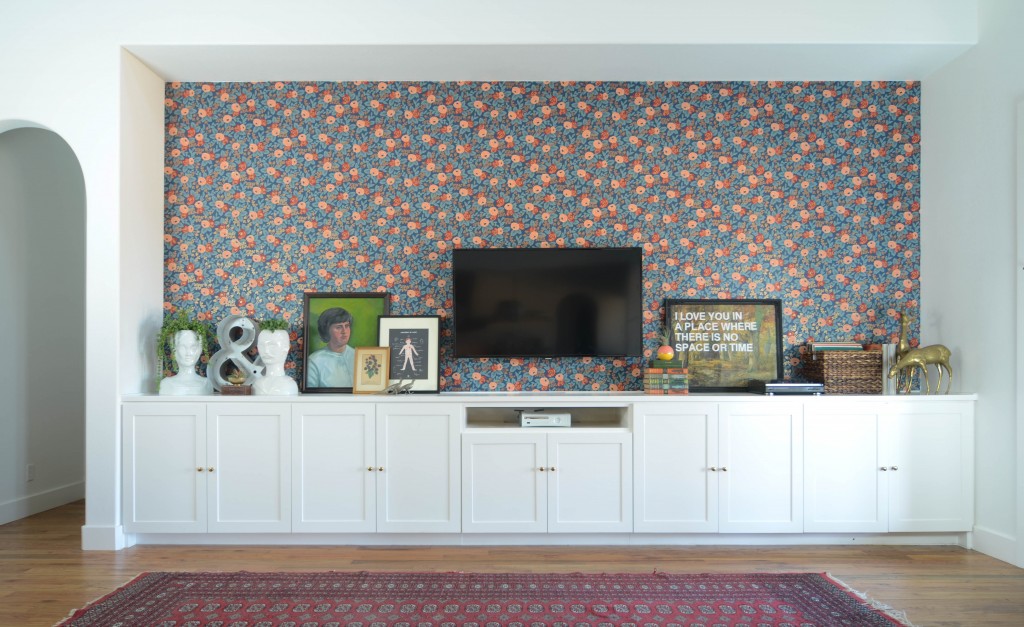 We are absolutely in love with the pattern and color. It's amazing how much it brought the space together even though it's in a completely mismatched, insanely unfinished space. Remember our dining room, entry, and kitchen are all opened to this living room. The impact this space has had cannot be undersold.
Check out more tutorials for wallpaper- hanging pre-pasted wallpaper and hanging textured wallpaper.